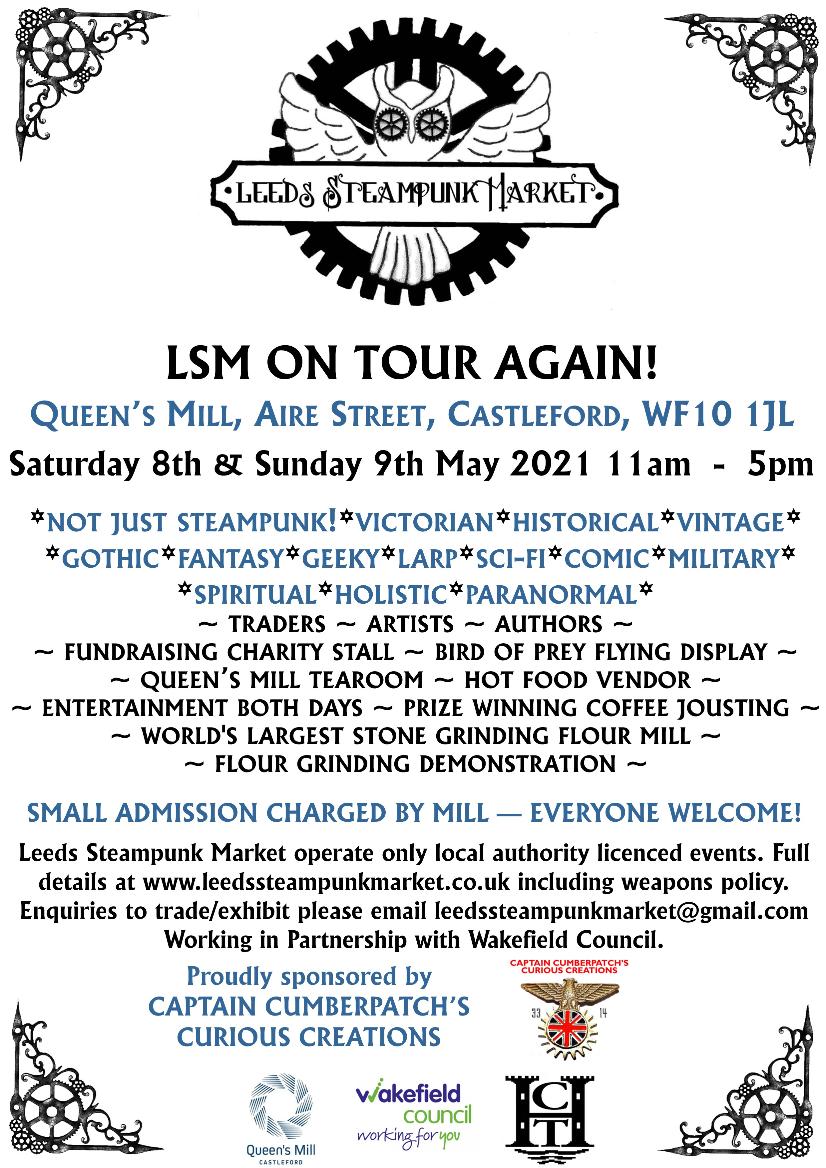 CANCELLED DUE TO COVID
Our market here in December 2019 was a great success and we are delighted to come back here again.
INFO FOR VISITORS
Queen's Mill, previously known locally as Allinson's Mill and before that Castleford Mill, is the world's largest stone grinding flour mill, with twenty pairs of stones. Although not a listed building, the mill is of significance because of its history, heritage and importance in the local community over hundreds of years.
http://www.castlefordheritagetrust.org.uk/
Although this is not a museum, there will be a small admission charge (of most likely only £2) on this weekend by the Mill to help support them.
They will be doing a demonstration of flour milling here on both days, milled from locally grown wheat. The flour is on sale in 1.5kg and 500gm bags which can be bought in the Queen's Mill Tea Room.
There is continued renovation going on within the building with a viewing area on the top floor affording amazing views across the River Aire and the new footbridge. The current work has already seen the installation of new windows and heating throughout making this probably the cosiest mill building we've ever traded in!
Entertainment will be as follows (actual times yet to be confirmed):
Amy Jo Lawrance​ with one or two owls from her Flying Squadron will be there on both days. If there is room for a flying demonstration this will happen within one of the mill buildings. If no room to fly, she will be wandering around with the owls for photos and a chat and will be giving an informative talk about her owls with a Q&A session. https://www.facebook.com/TheFlyingSquadron
Recruiting for the Coffee Jousting (that's right, we do things different at LSM!) commences an hour before the tournament takes place on the Saturday only.
(Rules on coffee jousting are on a separate post/tab on the website).
Captain Cumberpatch's Curious Creations will be donating medals for the prizewinners (gold, silver and 2 bronze) and one also for the Coffee Jousting Beanmaster (the host).
There will be other entertainment on the Sunday within the building in the form of a wandering steampunk magician between 1 and 3pm. Prepare to be accosted and amazed!
There will be traders on two floors - ground and 2nd* floor which will not be all the same people on both days and the traders will be accessible to all.
(*There is no 1st floor - just very high ceilings!)
There will be an all day tombola on both days to raise money for a local charity or good cause (to be confirmed) which all the traders will be donating to.
We will not have our own vintage tearoom at this venue as the Queen's Mill Tea Room is there for visitors to enjoy afternoon tea.
http://www.queensmilltearooms.co.uk/
However the mill staff and volunteers will be offering basic takeaway cuppas at very cheap prices to anyone who hasn't got the time for queuing up in the Tearoom (most likely the traders!) from near their reception area.
We will have a hot food trader on site near the doors.
We do not know yet if dogs are allowed on site.
INFO FOR TRADERS
We open for trading at 11am on both days, all stalls open and trading up to 5pm.
Trading applications welcomed from our usual collection of steampunk, Victorian, military, gothic, dark and spooky, faery, pagan, LARP, roleplaying, historical, heritage crafts, Sci-Fi, Harry Potter, Alice in Wonderland, geeky, nerdy, comics, gaming, modelling (railway and dollshouse), a bit of Boardwalk Empire/Game of Thrones thrown in, alternative (but NOT in a fetish/burlesque way) - we think you can see how different we like the stock to be.
We have been advised by local authority that no counterfeit/illegal/contraband or offensive goods are sold at the Market (offensive goods include knives and guns) and no market traders from the Wakefield district are allowed to stand at the event. General commodity items must not be sold (which we never have anyway).
ALL TRADERS MUST PROVIDE RISK ASSESSMENTS. This is at the request of the local authority.
For the rest of the trading information, please look at the website here: https://www.leedssteampunkmarket.co.uk/trader-information.php
If you are interested in trading, please email leedssteampunkmarket@gmail.com
HOW TO GET THERE
Queen's Mill is easily reached by public or private transport.
By Public Transport - Rail Services from:
Barnsley, Bradford, Harrogate, Huddersfield, Leeds, Rotherham, Sheffield, Wakefield and York.
Bus Services from Leeds, Wakefield and the local area.
When you come out of the station take the right hand turn around the edge of Trinity Methodist Church and you will come out at the side of the now closed Poundstretcher. Cross the road to Barclays Bank and then walk down the road at the side of Barclays (Bank Street). When you get to the bottom of this road you will see the mill in front of you - just be careful crossing the road as there isn't a pedestrian crossing here. Their number is 01977 556741 if you get lost!
By Car
From the North leave the A1(M) at Junction 47,
from other directions leave the M62 at Junction 32.
If you have SatNav the postcode is WF10 1JL.
In terms of car parking the space there isn't huge, so we are asking traders to park in a public car park to allow more room for visitors. There are three car parks very close to us - the all day parking one is for the local Wilkos store - this is only £2.50 for the day.
Also please be aware there are no cash point machines on the site although there are some in the main town centre which is 5 minutes walk or so.