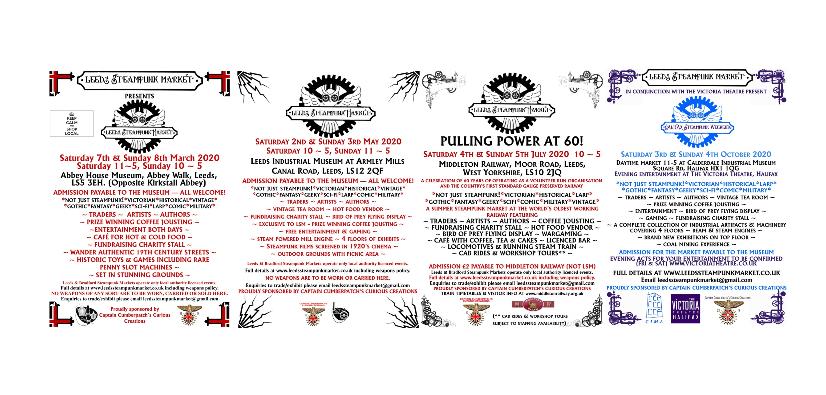 ADVANCE BOOKING FOR LEEDS STEAMPUNK MARKET.
Full details for 2020 (only one date in December awaiting confirmation of location).
Click on the title of each one for a new page which will show you more details about the venue.


If you are like us and planning your diary this far ahead then read on...
Up until now I've relied on all you lovely traders to keep an eye on social media posts and our website if interested in trading at any of our markets.
Emails that are sent out inviting traders to be with us have always been sent out on a single event basis although we announce our dates up to a year in advance.
Further to one trader replying "The majority of my weekends book up for events many months in advance, it is highly unlikely I'll be free at two months notice"
I have now revamped the trader form which is on the Trader Information tab here

This now shows all the dates we have got booked.
If you know of the dates you definitely want to commit to trade, please download the form, click enable editing on it to fill it in, resave it as a different name and email it back to me.
Then I can send you out the invoice for each event immediately after the previous one along with location/date information.
With this in mind, the Pay for Your Pitch tab now gives the option to pay £20 deposit on any forthcoming events as well.

Any that have just said "yes for now" are marked on my spreadsheet/database of traders/events accordingly and left it at that for the time being. Invitation emails for events to confirm a wish to trade are usually only sent out once the preceding event is finished with.
After that, the first batch of invitation to trade emails go out to those who have registered an interest, second batch goes out to those who couldn't make the last one and new names I have discovered, further emails after that vary depending on number of pitches left. These emails are always to confirm fully your intent to trade but please don't forget your pitch is not fully secured until payment is made. Invoices are sent out on receipt of a reply to the invitation email.
Do please share the event on Facebook, put the link on your Fb page/website and invite as many friends and customers possible.
Any dates you have said are good for you,
you can do a list on your website/Fb page saying "come and find me at the following events" supplying the dates, times and locations of all the places they can find you trading...
Events are nearly always oversubscribed so please ensure you respond to invitations quickly.
Can we say if you snooze you lose?!
2020
Leeds Steampunk Market
Saturday 7th and Sunday 8th March 2020, Sat 11 - 5, Sun 10 - 5.
Abbey House Museum, Abbey Walk, Leeds, West Yorkshire LS5 3EH.
(Opposite Kirkstall Abbey).
https://www.facebook.com/events/2227579954158563/
**Please note we have no need for a hot food vendor at Abbey House as they have a cafe on site**
Leeds Steampunk Market
Saturday 2nd and Sunday 3rd May 2020
Leeds Industrial Museum at Armley Mills,
Canal Road, Armley, Leeds, West Yorkshire LS12 2QF
Pulling Power at 60!
Saturday 4th and Sunday 5th July 2020, 10 - 5
Middleton Railway,
Moor Road, Leeds, West Yorkshire LS10 2JQ
Left at the Pavilion?
Saturday 25th July 2020, 11 - 4
**THIS IS NOT A TRADING EVENT!**
Time to relax with a social day out at Cliffe Castle Museum, Spring Gardens Lane, Keighley, BD20 6LH which has a load of outdoor renovations and a new cafe (Cliffe Castle Pavilion)
https://www.facebook.com/events/480429455890294/
Halifax Steampunk Weekend
Calderdale Industrial Museum, Square Rd, Halifax HX1 1QG
3rd & 4th October 2020
https://www.facebook.com/events/420688595410615/
**Please note we have no outdoor space for a hot food vendor at Halifax**
Entertainment being laid on by the Victoria Theatre in Halifax for the Friday night with Professor Elemental plus support. They have a booking for the Hairy Bikers for the Saturday which would fun invaded by steampunks as well though!
Other date will be similar to the ones for 2019 so hopefully
5th & 6th December 2020
Venue not yet booked for these as we anticipate more new places to visit!