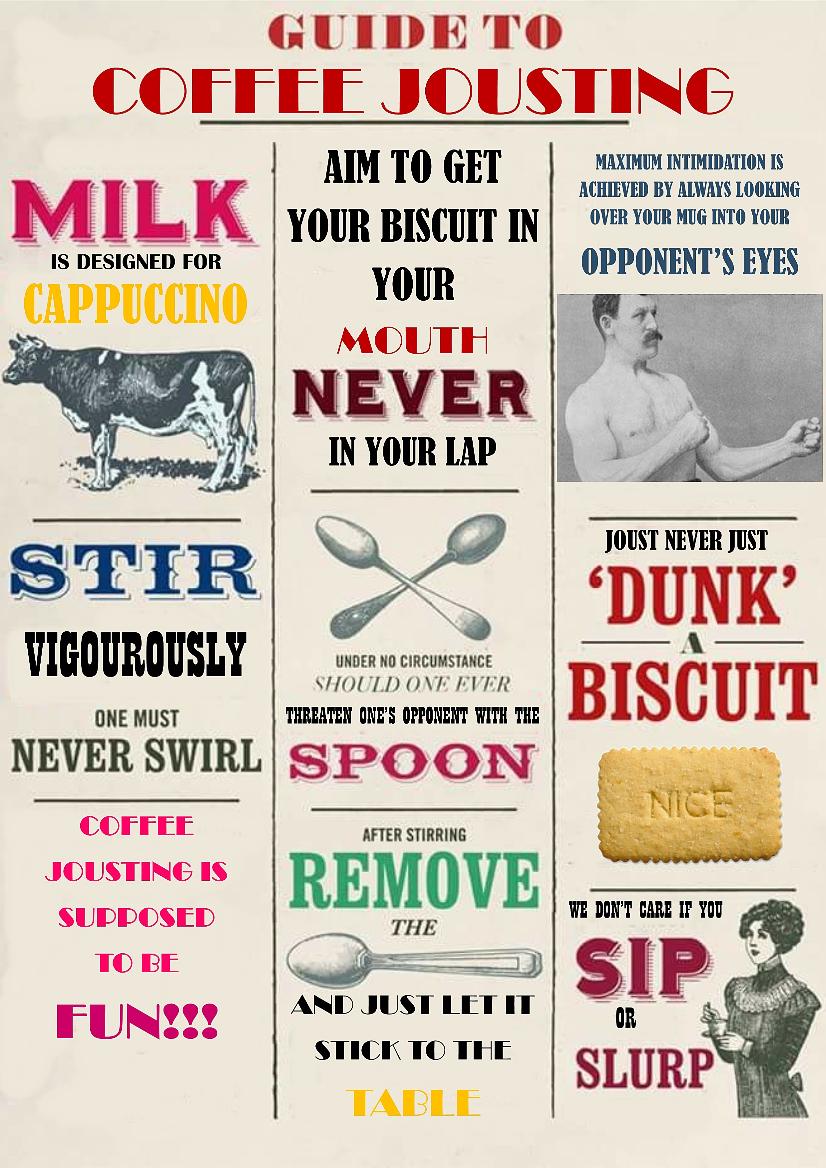 So, you may find yourself asking - what the hell is Coffee Jousting?

This came about due to the tea duelling winner of October 2014 asking if she was able to take part in Lincoln's Tea
Duelling finals the following year. I didn't know of this and advised VSS of the winners of this event and December.
The reply I had back advised me that I needed to register my event before I held it. I was sent a link to the tea duelling website and reminded that the rules were on there as well too. I found where to submit the tea duelling results but the form stated because the tea duel wasn't registered with them then our winners were not eligible to take part.
Tbh this has all got too serious so we just want it back to being fun!
Leeds & Bradford Steampunk Market bring you COFFEE JOUSTING!!

We are making our own rules and doing the complete opposite of tea duelling.

The basics are similar apart from these differences:

1) We have coffee not tea
2) No milk to be added as it will affect the temperature
3) Served in mugs not cups and saucers (working class steampunk :))
4) Biscuits to be used is the very delicate "Nice biscuits"
5) Biscuit to be dunked diagonally across the table in your opponent's mug not your own (thus the "jousting" reference)
6) Held for count of 3 not 5
7) No chairs to sit on – you remain standing*
8) On occasion a three way joust is permissible
Object is still to see who can keep their soggy biscuit upright the longest, the challenge will be the journey from the opponent's mug across the table back to their own side. The winner from each round goes onto the next level playing another round winner until we are left with the final two jousters.
This is a regular event at all LSM events where space allows.
Recruiting for the Coffee Jousting commences an hour before the tournament takes place. This is now played on the Saturday only of each event and will be usually any time after lunchtime. We no longer run it on Sundays due to the fact our Beanmaster has to go to work on Sunday mornings.
We are extremely proud and honoured to have a real vicar hosting these!
Please check each event individually in case the timing is a little different.
Captain Cumberpatch's Curious Creations donates official medals for the prizewinners - gold, silver and two bronze - and one also for the Coffee Jousting Beanmaster (the host).
DISCLAIMER *We are not being un-pc - if you are in a wheelchair or suffer from any disability or health problems which means you are unable to stand, then of course you can have a chair. The person who originally requested standing was someone with mobility problems who struggled to sit. It's all just a bit of fun and to be completely honest, this can get very messy so being stood up protects your clothes. Put it this way - some venues we have to put a groundsheet down...
Check out the great article here http://steampunkjournal.org/2015/10/07/coffee-jousting/
Coffee Jousting was conceived by Si Burgoyne-Neal and Karl Birkett and is the property of LSM - this is run exclusively at our own Leeds & Bradford Steampunk Markets.
The only other place we have given permission to is the Belgian Tea Duelling Society - they run one round of it at their events as a "peculiarity"!
It is considered extremely impolite to go ahead with a Coffee Joust without asking permission first as this is something that is exclusive to LSM.