CALDERDALE INDUSTRIAL MUSEUM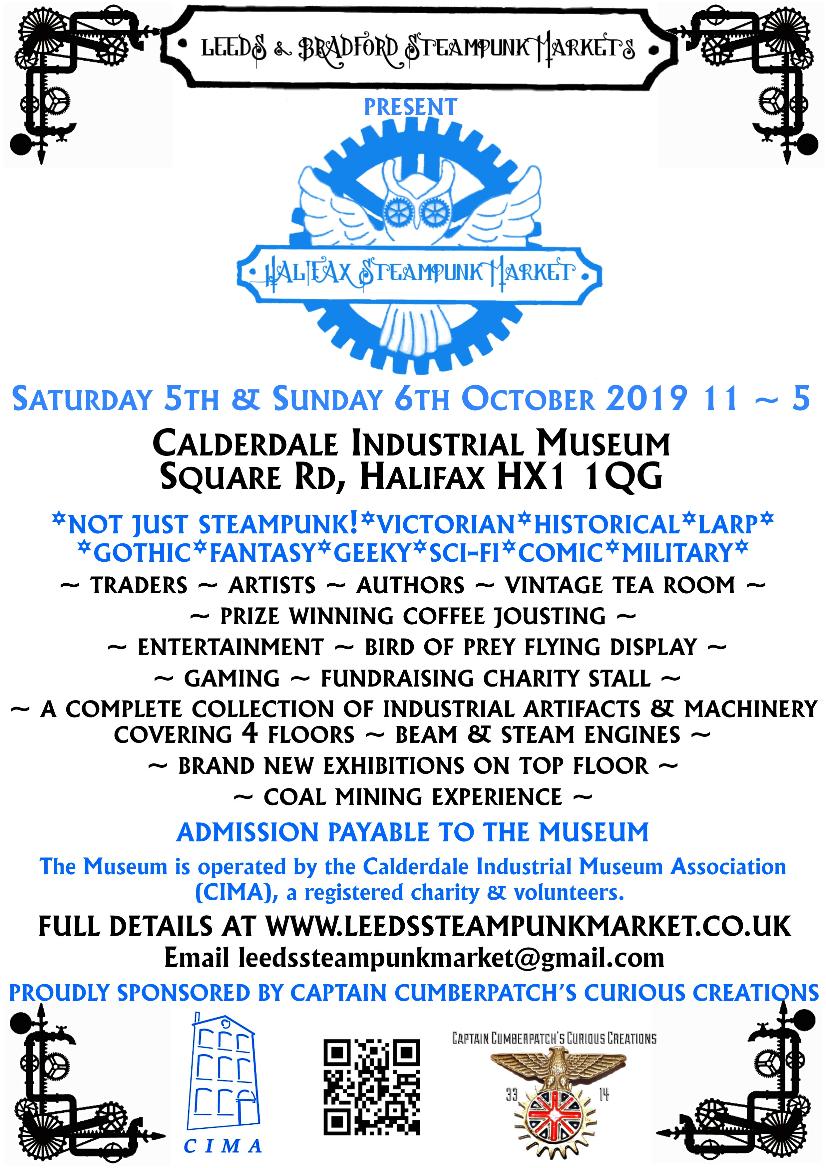 HALIFAX STEAMPUNK MARKET
The weekend will be as follows:
Doors open at 11am both days all stalls open and trading up to 5pm.
Indoor entertainment tbc on the Sunday.
There will be a flying display in the museum from one of Amy Jo Lawrance​'s owls from her Flying Squadron on both days - times to follow.
Recruiting for the Coffee Jousting (that's right, we do things different at LSM!) commences an hour before the tournament to take place on the Saturday only. (time tbc)
Captain Cumberpatch's Curious Creations will be donating medals for the prizewinners (silver, gold and two bronze) and one also for the Coffee Jousting Beanmaster (the host).
There will be a tombola run to raise money for a named charity which all the traders will be donating to.
A vintage tearoom will be there for the weekend selling lovely homemade cake and cuppas.
We have decided to not have our own hot food vendors outside this time as there's very little outdoor space plus the museum backs onto the Piece Hall where there are other cafes for normal food plus there is a Burger King just the other side of the museum.
Don't forget you need to pay admission to the museum itself as you will be able to see all the exhibitions there as well.
Customers will be paying normal admission to the Industrial Museum itself to be able to access the traders as you will be mixed in with the whole building, the displays and the layout. Traders will be on the 1st and 2nd floors - all floors fully accessible by lift.
Admission prices are: £5 per adult. Concessions £4. Accompanied children enter free.
Pitches are already available so if you are interested in trading please email leedssteampunkmarket@gmail.com stating the name of the event in the subject line as we run 5 weekends of trading each year.
ABOUT THE MUSEUM



The Museum houses a collection of industrial machinery and artifacts over four floors. Some of the machines are the only surviving examples in the country and have been placed in settings to give a close representation to the time when they were fully operational in the not too distant past.
Down in the basement, the oil engine 'Sadie' provides motive power for part of an extensive collection of locally-manufactured machine tools, including lathes, drills and planers. You can take in the experience of nineteenth century Mytholm Coal Mine, learn about stone extraction and the exploitation of clay in the fireclay industries.
The Power Gallery on the ground floor illustrates the story of power generation, from the water wheel to the internal combustion engine, by way of steam and electricity. The availability of power, initially from the numerous well-fed streams throughout Calderdale, was key to the growth of local industry.
The first floor displays products that were made in Calderdale. World-famous names such as Mackintosh's Toffees and Crossley's carpets were everyday brands originating in Halifax.
Following the success of last year's market and further fundraising by the team, the top floor is now in the process of being renovated and is already looking very different to last year's event here. The objective is to develop and present the story of how worsted cloth is manufactured from sheep's wool.
The Museum is operated by the Calderdale Industrial Museum Association (CIMA). a registered charity and dedicated group of enthusiastic volunteers.
A great opportunity to witness the rise of the Industrial Revolution in the Calder Valley!
It seems our LSM events are never to be without some sort of challenge but like a pheonix, we rise above it every time.
This time it was our excessive use of the lift at Calderdale Industrial Museum but thanks to their amazing team (who are all volunteers) and the willingness of Si, Ellie and Emma to help traders get out on Saturday evening and the new arrivals on the Sunday morning we all got in and set up. (And to the lift engineer for coming out on a Sunday!)
All in all, I thought it went well.
A lovely museum with lots of interesting informative demonstrations happening on the four floors and an amazing collection of traders - all your stalls looked brilliant and I will be editing my photos in a few days time (hopefully).
Thanks to all of you that came along - this footfall will have increased the museum's cash flow to do more, hopefully it will help get more of the top floor looking like the rest of the building.
A special thanks to our lovely LSM togs for the pics I'm already seeing online.
I'll be getting some attendance numbers from the museum in the next day or so, also how much the charity managed to raise.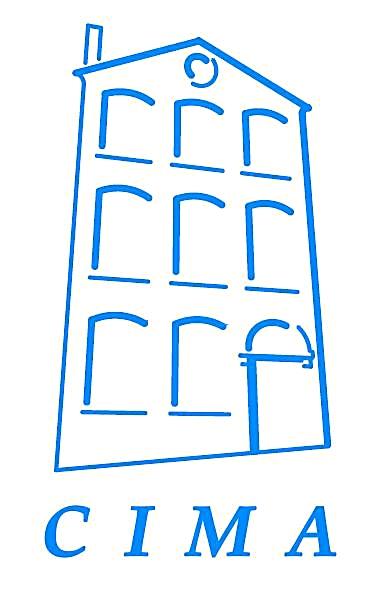 HOW TO GET THERE
RAIL – Halifax station is 200 yards walk.
BUS – Halifax bus station has links to all nearby towns and cities. A short walk through the shopping centre and the Piece Hall will take you to Calderdale Industrial Museum, just outside the new East Gate of the Piece Hall.
CAR – The museum address is Square Road, Halifax, HX1 1QG. There is no dedicated parking for the museum but on-street, pay-and-display parking is available close by and there are several pay-and-display carparks near the Minster to the north east.
The Eureka Museum car park is closest but is
4 Hours £3.00,
12 Hours £6.00
Go back up Square Road, turn right into King Street. Just a few minutes further to walk but the council car
park there is open Mon - Sat
08:00 - 18:00 and
only charges
1 Hour £0.50,
2 Hours £1.00,
3 Hours £1.50,
4 Hours £2.00,
5 Hours £2.50,
6 Hours £3.00,
7 Hours £3.50. There are no barriers and is free outside these hours. So we take that to mean free on Sunday!
HOTEL BOOKING
We are delighted to have the beautiful Imperial Crown Hotel in Halifax ready to welcome our visitors.
They would like to offer 10% off their BAR rate, offering a discount off BAR ensures guests are receiving a lower rate than what they are selling on the day. Prices start from £50 for a standard double.
Bookings can be made via telephone with their reception team on 01422 342342.
The Imperial Crown Hotel was built in the early 1800's as a Coaching Inn and is located directly opposite Halifax Railway station and next door to the Piece Hall.
The hotel offers complimentary parking for residents (subject to availability) which is located opposite the hotel, please note a permit is required from reception. Check-in is from 2pm daily with checkout at 11am. Guests can enjoy a hearty breakfast within their restaurant, freshly prepared by their team. They boast their own bar which is available 24 hours to their residents, offering a range of beverages, a great place to relax or meet with friends. Each room comes with free WiFi, en-suite facilities, TV with Freeview channels, hairdryer and tea/coffee making facilities are also provided. Upgraded bedrooms are available at a supplement cost, subject to availability.
The hotel has 41 bedrooms over 5 floors although unfortunately there are no ground floor rooms or a lift due to the age and layout of the building.
The Imperial Crown Hotel, 42-46 Horton Street, Halifax, HX1 1QE.