BRADFORD INDUSTRIAL MUSEUM AT MOORSIDE MILLS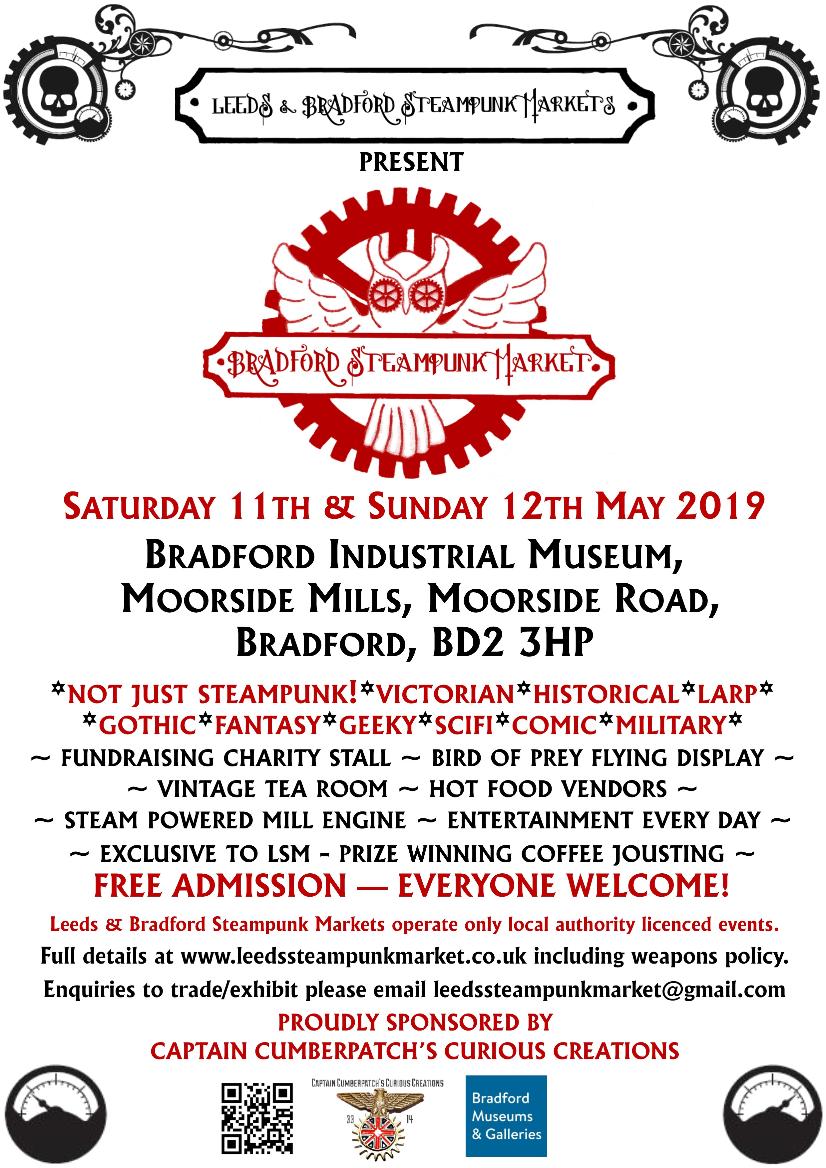 LSM brings you Bradford Steampunk Market on Saturday 11th and Sunday 12th May 2019.
Bradford Industrial Museum, Moorside Mills, Moorside Road, Bradford, BD2 3HP.
The weekend will be as follows:
Instead of 11 - 5, we open for trading at 10am on both days, all stalls open and trading up to 4pm.
Entertainment will be owl flight from the Flying Squadron on at least one of the days, hopefully both, time tbc.
SATURDAY
Coffee jousting (time tbc)
SUNDAY
Other entertainment tbc
Recruiting for the Coffee Jousting (that's right, we do things different at LSM!) commences an hour before the tournament takes place on the Saturday only.
(Rules on coffee jousting are on a separate post/tab on this website).
Captain Cumberpatch's Curious Creations will be donating medals for the prizewinners (gold, silver and two bronze) and one also for the Coffee Jousting Beanmaster (the host).
There will be an all day tombola on both days to raise money for a local charity or good cause (click here to see who we have) which all the traders will be donating to.
There is limited space for tabletop gaming so do get in touch if you'd like to bring your game/s.
There will be all sorts of machinery steamed up and running on both days.
https://www.facebook.com/TheFlyingSquadron.
A vintage tearoom will be there for the weekend selling lovely home made cake and cuppas as well as a few hot food vendors on the outdoor area (as there's nowhere else close really for normal food).
There will be traders on possibly two floors (ground and 1st) or we might go with just using the ground floor like we did for the December market. This will not be all the same people on both days and the traders will be accessible to all. Most of the buildings are disabled accessible with the exception of the upper floors of the cottages and a few steps down to the trolleybus and tram.
Dogs are not allowed on site with the exception of assistance dogs.
Anyone with a small pet that is carried (owl, hedgehog, skunk etc) please be aware that any mess caused (by whatever means) from your livestock must be cleaned up immediately and safely.
Don't forget this museum is free admission to see all their exhibitions. We hope that all visitors will be making donations to help keep them running!
http://www.bradfordmuseums.org/venues/bradford-industrial-museum
Also please be aware there are no cash point machines on the site.
Trader information can be found here
Please note this museum and
car park is secured overnight so they do not allow overnight parking. Anyone wishing to park up overnight for trading or visiting in a campervan are advised to look around for an alternative solution, perhaps one of the neighbouring side streets?
By road:
Signposted from Bradford Ring Road and Harrogate Road (A658). Look for the brown council signs!
By public transport:
The 660 bus from Bradford Interchange stops right outside the museum gates. This runs hourly from 0925 on the Saturday, no service on the Sunday.
The 686 / 687 (Fagley) also departs from Bradford Interchange every 10 mins Sat, 15-20 mins on Sun, this bus will drop you off at the top end of Moorside Road and the museum is approximately a 10 minute walk from this stop.
There is also the 645 (Greengates) which runs every 20 minutes Sat and Sun and this bus drops you off at the bottom end of Moorside Road, the museum is a 10 / 15 minute walk from this stop.
Link to 645 timetable here
Link to 660 timetable here
Link to 686/87 timetable here
Link to map of bus stops in Bradford here
For help in planning your journey by public transport, please visit www.wymetro.com