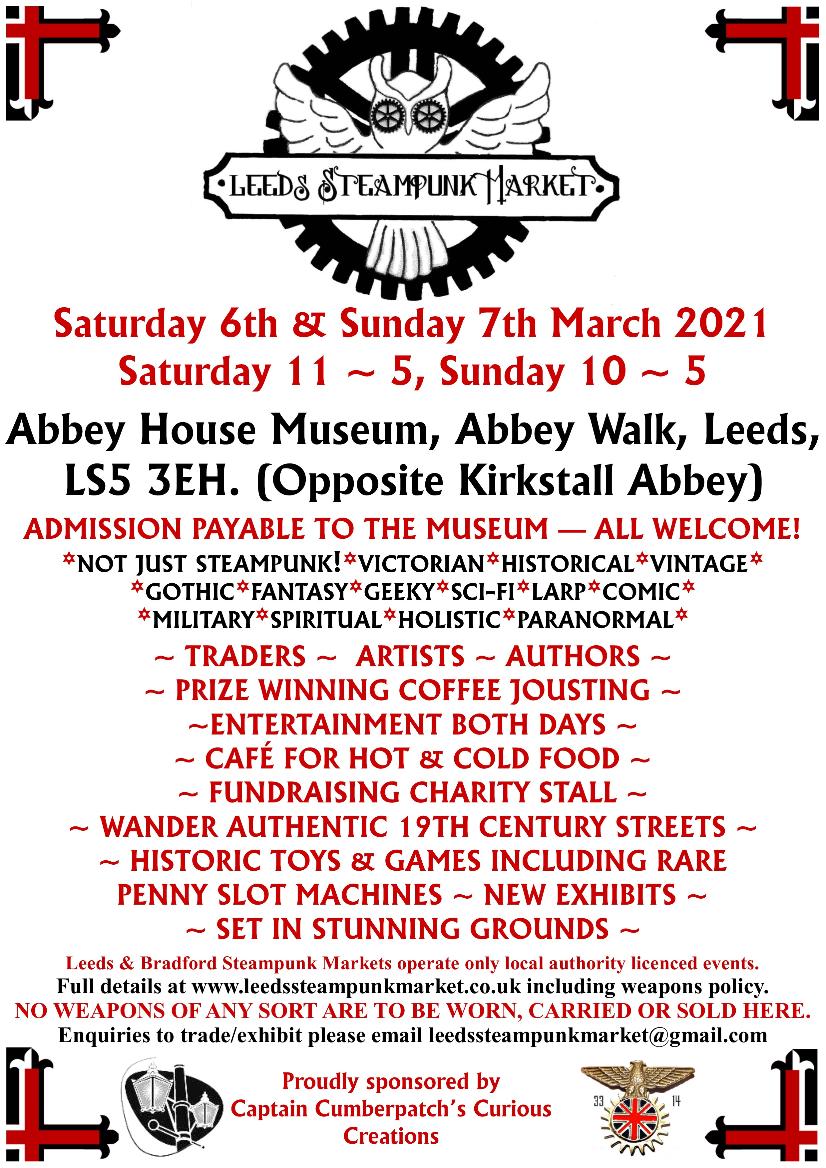 ABOUT THE MARKET
Leeds Steampunk Market brings you their first market of 2021 held at Abbey House Museum, Abbey Walk, Leeds, West Yorkshire LS5 3EH. (Opposite Kirkstall Abbey).
This is Saturday 6th & Sunday 7th March 2021.
Doors open at 11am Saturday, on the Sunday they open to the public at 10am, all stalls open and trading up to 5pm both days.
There will be entertainment on both days (performances tbc) but u
nfortunately we won't be able to have the owl flight on this occasion* (please see note further down).
Recruiting for the Coffee Jousting (that's right, we do things different at LSM!) commences from 1.30pm for the tournament to take place at 2.30pm on the Saturday only. This is free to enter!
Captain Cumberpatch's Curious Creations will be donating medals for the prizewinners (silver, gold and two bronze) and one also for the Coffee Jousting Beanmaster (the host).
There will be a tombola run to raise money for a named charity which all the traders will be donating to.
The museum's own Gatehouse cafe will be open to the public selling hot food, wine, cake and cuppas.
This means we will not have our own hot food vendors outside for this event.
Customers will be paying normal admission to the Museum itself to be able to access the traders as you will be mixed in with the whole building, the exhibitions, displays and the layout.
If you are interested in trading please email leedssteampunkmarket@gmail.com
IMPORTANT NOTE TO TRADERS AND VISITORS
We have no owl flight this time as when we were at this venue in March 2019 the museum received a couple of complaints. One was regarding a gun one of the people in costume was carrying and another about the birds being inside the museum.
As the museum has to act on any complaint they receive they have asked us to include in our advertising that customers and traders won't be allowed to bring guns into the museum.
We do already have a weapons policy in place (see here)
which has been in place since around mid 2016 following the incident at Bradford in March that year. This states quite clearly that no weapons are allowed to be worn or carried at any LSM, that they are to be left in the car.
I did meet (during the course of the weekend) the person that the museum management are referring to and pointed out to him about his weapon being against the weapons policy. However as he'd paid admission and since passed through an additional staffed barrier I assumed the museum staff were happy for him to carry it.
I told him I was agreeable to it being carried as he'd already been admitted with it, provided it was kept safely to his side so that he didn't pose a hazard with it.
The weapons policy MUST be adhered to at all times.
There is also to be no flash photography due to the exhibits so if you are taking photos, please ensure your camera has the necessary lens or setting to enable you to take photos without using flash. This directive has come from the Museum Curator as camera flashes, which emit intense light, are believed to hurt paintings and the patina of delicate objects. Eliminating flashes, even inadvertent ones, keeps these valuable and historic objects in pristine shape and reduces expensive restoration costs.
This museum only allows assistance dogs in the building.
We are also advised by the council's Parks Department that although the car park is not secured overnight and is outside the museum, they do not allow overnight parking. (Whether they enforce it or not we don't know - anyone wishing to park up overnight for trading or visiting in a campervan it's up to you!)
Adults - £5.20, Concessions £4.20
Child - £2.65 - Children under 5 years - free.
Prices correct at time of going to press (Jan 2020) so do please check on their website here:
https://www.leeds.gov.uk/museumsandgalleries/abbeyhouse
The museum opened in July 1927.
Wander the beautifully created authentic Victorian streets for a glimpse of life in 19th century Leeds, illustrating a range of shops and services and including original shop fittings etc.
With some of the best collections outside of London and a number of unique collections of national and international importance, their collections are something we can all be proud of.
Upstairs galleries feature the history of Kirkstall Abbey, Childhood, and Leeds Social History, as well as temporary exhibitions.

Bus numbers 33, 33a and 757 travel from the city centre to Kirkstall Road.
The nearest train stations are Kirkstall Forge, c.1 mile away, and Headingley, a 1 mile walk. Contact Metroline for up-to-date travel information on (0113) 245 7676.
By car: If you are using a route planner, the postcode is LS5 3EH.
Parking
A large free car park is situated next to Abbey House Museum on Abbey Walk. This includes disabled parking. There is an additional disabled access parking space immediately outside the museum entrance for visitors.