At every LSM event we donate a pitch to a charity or cause that benefits from the proceeds of a tombola.
The idea came to mind after the October weekend when Fran did her diabetes based one. So we love to do this at each event and ask for all your support.
We ask that all traders donate a little something each for each fundraiser please; make sure you have a tag or business card attached to your donation so people can see who made it.
Current running total is £4399.53 (the odd figure is because of random donations and merchandise such as pens, key rings, badges etc being sold by the charities as well). Si's special edition mini medals released at Middleton in 2016 for the Mercury Phoenix Trust continued to sell at events so £2 from each sale goes over to them on a regular basis and is included in the updated total shown. They are also on his eBay shop (go to http://stores.ebay.co.uk/Captain-Cumberpatch
and look for Mercury Phoenix Trust) where they sell for £6.50 and £2.27 goes directly to them from each sale.
These are currently out of stock but will be replenished in due course.
FORTHCOMING EVENTS:
March 2019 (Abbey House, Leeds)
I am delighted to announce the good cause that LSM will be fundraising for in March at Abbey House Museum will be Touchstone - a charity based in Leeds that provides mental health and wellbeing services to over 2000 people a year.
This will be run by Naheed Aslam on their behalf and she is also donating 15% of her sales from her own range of handmade creations Naheed's Sparkle.
Meanwhile from 28-31 Jan 2019 - her Instagram and FB online craft market event @craftiesmarket - where our fellow sellers will donate their stall fees to touchstone via the fundraising site. She will ask her followers on social media and her friends to also help if they can with donations!
https://uk.virginmoneygiving.com/Naheedssparkleevents
https://www.touchstonesupport.org.uk/about-us/
https://www.facebook.com/naheedssparkle/
The following dates we do not have anything booked in yet so do please get in touch if you have a good cause you would like to put forward:
May 2019 BSM (Bradford Industrial Museum)
July 2019 (Middleton Railway, Leeds)
5th & 6th October
date and venue to be confirmed
December 2019 BSM (Bradford Industrial Museum)
INFORMATION FOR THE CHARITIES:
We mainly support causes that don't get help from anywhere (such as government funding or from the National Lottery) although we occasionally contact a larger cause if it fits in with the theme of a particular event or has a personal connection to us or one of our traders or visitors.
We have found local causes fund raising in a shopping centre or at an exhibition that we have invited.
If you have a charity in mind you would like to suggest, initial interest may be started either in person at one of our events or through social media. Either way, we must have direct contact with the named charity in order to confirm attendance and all details by email to be able to track communication at all times. Please ensure you do follow up either of these forms of contact immediately with an email as
a) social media is not a reliable means of communication - messages cannot be filed like emails to be able to find stuff you want easily.
b) talking to me at an event is one thing but do you have any idea how many plates I am spinning at once?! At the end of the weekend I will be so wiped out, any conversations will be lost from my memory unless you email me straight away.
Take a look at the list of events above and see which ones have nothing written in - this means we have nothing lined up - if it says To Be Confirmed then it means we are waiting for confirmation from an interested party. If you have a particular date you are looking at then you must confirm by email as soon as you know if you have a team to cover it. If we do not hear back from you for weeks or months then you do risk someone else getting that slot as we will assume you are no longer interested.
Anyone who is not a trader that has nominated a cause needs to either be at the event to co-ordinate their volunteers to run the table for the weekend or have someone there to do it for them. Ideally, we would prefer to have people from the charity there in person.
Due to data protection, if doing a raffle you are not allowed to take people's phone numbers - people would need to be present at the time of the draw. This would seriously impact on the amount raised so instead it is always done as a tombola. Plus doing a raffle takes all the customers away from all the traders (who have paid for their pitches) so is a bit unfair on them - also you are invariably left with a load of uncollected prizes to sort out. Too much hassle - tombola is what it needs to be and it also raises more money than a raffle anyway!
WHAT TO DO FIRST:
So if you are a charitable association that would like to come along and raise money and awareness, please email leedssteampunkmarket@gmail.com
Please copy and paste the checklist into your email filling in the replies needed. If I have got in touch with you (the charity) first, I'll still need this filling in. If you choose to fill this in and attach it to your email as a document, please save it as a Word document not a pdf so that it is easier for me to add the information to my spreadsheet. See the notes further down relating to any marked with *.
Your name:
Your company name:
What you do:
Website:
Facebook profile name and url: (Go to your own profile and enter what is in the address bar, it will start with https://www.facebook.com/)
Facebook page url: (Go to your own business page and enter what is in the address bar, it will start with https://www.facebook.com/)
At least one other email address as a backup to the one already used:
Mobile number (for my use only not public):
Landline if you have one:
Which weekend are you hoping to do? (Must be both days)
2nd/3rd choice of weekend:
Can you supply your own table?* (Don't forget to bring a nice cloth to cover your table with):
Are you bringing anything else such as a rail (size needed)?
Do you need access to power? If yes, what electrical items are you planning to use?
Do you or any of your team have mobility or health problems we need to be aware of (when laying out the floor plan)?**
Have you attached your proof of PLI (and any other certificates required) onto this email? yes/no***
PLI CERTIFICATE NEEDS TO SHOW YOUR TRADING BRAND OR OWN NAME AND DATES VALID FROM/TO. THIS MUST BE SENT WITH YOUR EMAIL**** TO EVERY INVITATION CONFIRMING YOUR ATTENDANCE. THIS IS TO MAKE SURE YOU HAVE CHECKED TO SEE IF YOUR LAST ONE HAS EXPIRED AS AT THE LAST EVENT WHEN I CHECKED THERE WERE LOADS THAT HAD EXPIRED.
*Really helpful if you do have your own table as venues may not supply enough for all traders. Only exception to this is at Bradford Industrial - they have none whatsoever so we have to pay to hire them all in. It makes it far easier for us that way so you may not need to bring yours. On other events do advise if yours is not 2' x 6'. Please check pitch details further down on the relevant event in regards to how pitches are laid out to see what size pitch you need. Some venues supply metric sized tables which give the same footprint as a 6 x 2. **In regards to health, we don't just mean mobility problems - some of our venues have working machinery where it may affect things like asthma.
***The only reason for replying "no" to previous question is because you've not got it yet and getting it started closer to the date of the event as new trader.
****Send either the original downloaded document the insurers sent you. If not scan it in and send as an attachment. If you are taking a photo please ensure you have a large size/resolution so that I can zoom in on it and read it! Then attach it to the email. Most insurance companies will allow you to take out PLI (or renew it) and for it to be dated in advance commencing from the actual trading date to save you paying for dead time. PLEASE NOTE: All traders must be still trading right up to the end (5pm) to allow for customers coming late in the day (i.e. at 4pm). It is also an opportune time for the traders themselves to have a wander and spend their own money. There is to be no starting to pack up early unless either Si or I come round to say so. I have even been known to be racing around with my camera half an hour before we close catching pics of traders!
More useful info can be found on here, hover over the "Everything for traders" tab and click on the drop down menu.
LOADING IN/SETTING UP
You will be emailed out the load in instructions a few days before the event.
From this point you will be considered as one of the traders and treated accordingly. By this I mean held to the same standards in regards to communication, etc.
WHAT TO DO ON THE DAY:
You need a minimum of two volunteers there each day. Ideally have more in case one of you is taken sick.
Be there from 8.30-9am ish if we open at 10 each day. On the events that are 11-5, you can get there for about 9.30.
Go round and collect the donations from the traders on each morning of the event before we open - introduce yourself and be polite. Please be mindful of the fact these are traders who have worked hard on creating their stock and may not be able to afford to donate an expensive item. We ask that you be appreciative of what you have been given and not pressure them to give you a larger more costly item - this is considered extremely impolite. If they have higher priced stock they may have made a gift voucher as a prize for you to be used towards the purchase of one. After all the traders have paid for their pitches and expect to make decent sales on the day.
Bear in mind there will only be about 30 - 50% of new people arriving Sunday to get prizes off - people doing both days only give you one prize for the weekend. Keep back about a third of the stuff you collect on the Saturday to use on the Sunday.
Running a table for the tombola (bring your own if you have one).
With one half of the numbers, pick out the ones ending in 5 and 0 and sellotape each number to each prize. The remaining ones from that set (ending in 1-4 and 6-9) go in the bin. Tip - count how many prizes you have, this is how many strips of numbers you need as raffle ticket books usually come as strips of 5.
Get the other half of all the tickets split up and folded and in a container ready, just go up to the number reached with the prizes.
Selling tickets to traders and public at 5 for £1, they then pick out from the tub at random and keep their fingers crossed.
Any prizes you have left over at the end (if you have any left!) are yours to take away with you for another fundraising event.
CHECKLIST OF WHAT YOU NEED:
Book of raffle tickets
Sellotape.
Container for putting tickets in.
A bin to put all the disposed of tickets in
Something to keep the money in.
A table of your own if you have one.
Any promotional materials (flyers, poster)
Credit on your phone in case you have any problems on your way and need to phone us.
You can bring your own merchandise to sell as well - if you need an additional table just let us know and we'll do our best to oblige. You can bring a small table like a picnic folding table if you like. Let us know it you want to bring a rail of 2nd hand clothes. The only thing we ask you not to bring is donated home made cakes as we have a tea room and stall holders doing cakes and they all have the relevant certification showing their kitchens are licenced for cooking in.
Please don't forget to send me your PLI certificate!
If you don't feel comfortable taking the cash home with you at the end of the day, we can do that and arrange a bank transfer for you to the charity.
After the event, we would appreciate some sort of certificate advising us of the amount you raised to be added to the gallery below.
Further information on fund raising in general can be found on this link:
http://www.institute-of-fundraising.org.uk/code-of-fundraising-practice/
Past events:
December 2018 BSM (Bradford Industrial Museum)
GACAH. (Give a child a hope) raised £93 from the tombola at Bradford Steampunk Market and also donated their payment from their dance routine (Steampunk Rollers).
The Revival Centre, at Matugga in Uganda, is run by Pastor Ivan Lugolobi and comprises a primary school of 450 pupils, a secondary school of 180 pupils, an orphanage for 105 children, a clinic and a busy church. The Centre provides the chance of an education to 525 local children and 105 orphans who have been rescued from all kinds of despair. Ivan's elder sister Ruth runs the Revival Clinic and treats up to 450 people a month and his twin sister Jane, runs projects with widows to help them generate income and support their families.
This project is supported by Churches Together Ilkley, both financially and with material support and professional advice provided by some who have taken this project to heart.
http://www.revivalcentrematugga.org.uk/revival-centre/
https://www.facebook.com/therevivalcentrematugga/
September 2018 LSM (Calderdale Industrial Museum, Halifax)
Raised £104.52 - thank you to everyone involved.
Heartbeat of Sport was our nominated registered charity for this event and has FOUR main aims:
To raise awareness of sudden cardiac arrest within sport
To hold fundraising events to help sporting organisations obtain specialist training and equipment that is needed in a cardiac arrest situation.
To campaign for the regular screening of all professional and semi-professional sports stars
To provide affordable heart screening to all sporting environments
https://www.facebook.com/heartbeatofsport/
July 2018 LSM (Middleton Railway)
Calderdale Industrial Museum was our nominated cause for this fund raiser. The Museum is operated by the Calderdale Industrial Museum Association (CIMA). a registered charity and dedicated group of enthusiastic volunteers. They could only spare people to be with us for the Saturday so on the Sunday the fundraising was done for Middleton Railway themselves to help raise funds to repair vandalised stock.
Middleton's tombola on the Sunday raised £55 which isn't bad for one quiet day (it was boiling hot sunshine which affected attendance). In addition they raised another £406 on admissions to the market as they charged separately for the train rides.
CIMA raised £69 and a LOT of interest in the museum from both traders and visitors so they were delighted with the result.
http://calderdaleindustrial.co.uk/
http://www.middletonrailway.org.uk/
May 2018 BSM (Bradford Industrial Museum)
The manager of the Keighley Yorkshire Cat Rescue shop was with us independently to raise money for two local good causes - Yorkshire Cat Rescue and Roleystone Horse and Pony Sanctuary. She raised £103 for the cats and £156 for the horses!
Yorkshire Cat Rescue - exists to save the lives of abandoned and unwanted cats and kittens in Yorkshire and parts of Lancashire. The charity's aims are to relieve the suffering of cats who are in need of care and attention and, in particular, to provide or maintain rescue homes or other facilities for the reception and care of such unwanted animals and their treatment. When they were with us last they raised a total of £749.46, of that £201 was from the tombola.
http://yorkshirecatrescue.org/
Roleystone Horse and Pony Sanctuary - a horse sanctuary for rescuing horses and ponies Near Bradford. (Westfield Lane, Wrose, Shipley BD18 1LY.) They have taken it upon themselves to provide a safe and loving shelter for horses and ponies that have fallen on hard times, been mistreated, neglected or in need of a retirement home. They offer the care and attention that allows them to flourish. They practice tolerance, friendship and understanding of the fears and needs of man's equine partner; allowing a horse to be a horse. They strive to have the means to welcome & care for any horse or pony in distress or in need of our help. Their commitment to the horse is for life; however long or short that may be.
They became a charity in November 2009 and run by a team of dedicated volunteers and funded entirely by public donations and fund raising events.
https://sites.google.com/site/roleystonesofficialwebsite/home
https://www.facebook.com/Roleystone-horse-and-pony-sanctuary-440111482732504/
March 2018 LSM (Leeds Industrial Museum, Armley)
Due to various problems with the postponed original date, DFK were not able to join us after all. However we will be getting them back with us on another time.
Dementia Friendly Keighley is a local cause based where we live.
Dementia Friendly Communities are where residents have awareness of issues which might affect people living with dementia. Business owners have increased knowledge and take necessary actions to ensure that people living with dementia remain independent for as long as possible. A dementia-friendly community recognizes that dementia is a disease that touches many lives. A dementia-friendly community implements coordinated, ongoing, community-based solutions to help people with memory loss feel safe.
https://www.facebook.com/groups/530678583735378/
December 2017 LSM (Bradford Industrial Museum)
The Yorkshire Air Ambulance is an independent Charity providing a life saving rapid response emergency service to 5 million people across Yorkshire. They fly seven days a week, 365 days a year, covering a vast landscape that not only includes major cities and motor ways, but also rural and isolated locations. To keep providing this life saving service the Charity needs to raise £12,000 per day to keep both of Yorkshire's Air Ambulances maintained and in the air. The generosity that they receive is the life blood of the Charity and with out this generosity, they would not be able to provide the service that they are so proud of.
We are delighted that through our event they were able to raise £298.82 from the tombola, merchandise sales and donations.
http://www.yorkshireairambulance.org.uk/
October 2017 LSM (Leeds Industrial Museum, Armley)
The Children's Heart Surgery Fund is an award-winning charity based in Leeds, supporting the Leeds Congenital Hearts service – which serves the whole of Yorkshire, the Humber and North Lincolnshire. Our vision is for children to live life, beating heart disease, and our mission is to make the Leeds Congenital Hearts unit a world class centre of excellence by providing the funding and resources needed to care for a child's heart, mind, family and future.
They did well on the Saturday raising £94 and ran out of prizes by mid afternoon. Unfortunately on the evening the manager was poorly leaving insufficient volunteers to cover the Sunday.
https://chsf.org.uk/
July 2017 LSM (Middleton Railway, Leeds)
This was due to be "Railway Children" which provide protections and opportunity for children with nowhere else to go and nobody to turn to. Unfortunately they could not be with us after all so Middleton Railway ran a fundraising tombola to raise much needed funds to keep their locos running. Apparently it costs around £30,000 to overhaul each one!
The Middleton Railway is the world's oldest working railway running steam and diesel trains from Moor Road to Middleton Park and is run entirely by volunteers.
Figures through show the tombola raised £158 - many thanks to all the traders for their donations and to the visitors for spending money.
They had an additional just over £100 on donations on the door from around 200 visitors to the market. This was split as attendance of approximately 75 Saturday and 125 Sunday proving that Sunday was actually the busier day (there were certainly more steampunks!)
A total of 525 passengers (adults and kids) rode on the trains which was a significant increase on the 402 from last year.
http://www.middletonrailway.org.uk/
May 2017 LSM (Abbey House, Kirkstall, Leeds)
St Gemma's Hospice are a Leeds-based charity providing expert care and support for local people with terminal illnesses. They offer specialist medical and nursing care to thousands of local people each year and offer invaluable support to their families and friends. Opened in 1978, they are the largest hospice in Yorkshire and one of the largest in England.
After being with us, their emails said "Thanks so much, the overall total raised was £172.75 which we're really pleased about, especially since we didn't quite have enough volunteers to cover the whole weekend. Please pass on our sincere thanks to everyone who was involved in raising these funds."
March 2017 LSM (Bradford Industrial Museum) - Yorkshire Cat Rescue
Yorkshire Cat Rescue - exists to save the lives of abandoned and unwanted cats and kittens in Yorkshire and parts of Lancashire. The charity's aims are to relieve the suffering of cats who are in need of care and attention and, in particular, to provide or maintain rescue homes or other facilities for the reception and care of such unwanted animals and their treatment. Their head office emailed us with "Just to let you know that Yorkshire Cat Rescue raised a total of £749.46, of that £201 was from the tombola.
And from what I have heard, all the volunteers had a great time and really enjoyed it!"
http://yorkshirecatrescue.org/
December Surgical Spirit (Thackray Medical Museum, Leeds) - SSAFA
They are the longest serving national tri-service military charity. For over 130 years, they have provided lifelong support to those who are serving or have ever served in our Armed Forces. Today nearly 2.6 million people living in the United Kingdom are estimated to have served in the Armed Forces at some point in their lives. Every year, around 20,000 servicemen and women leave the services and return to civilian life. That's why their work is so important. They believe that those who have served their country should get the best possible support when they need it.
As ex-service members ourselves, Si and I were more than happy to provide them with an opportunity to raise money and awareness. Through the tombola and donations they raised a wonderful sum of £239.13.
October LSM (Armley Mill, Leeds)
Delighted to announce that our charitable cause this weekend raised a total of £103.46 through their own merchandise sales (keyrings, pens, CDs etc), donations and the tombola with all the fabulous items that the traders gave.
Cloth Cat is a social enterprise and their main activities centre around a unique programme of FREE training in music based learning, run in partnership with the WEA.
If you would like to volunteer with them please contact Mike Jolly either through Facebook or via the website.
https://www.facebook.com/ClothCatLeeds
Steampunks Under Pressure (July LSM at Middleton Light Railway) - The Mercury Phoenix Trust raised £318.79 from the tombola, donations, Queen merchandise and the proceeds from the special edition miniature medal made by Captain Cumberpatch's Curious Creations.
The Mercury Phoenix Trust was founded by Brian May, Roger Taylor and their manager Jim Beach in memory of rock band Queen's iconic lead singer Freddie Mercury who died in 1991 from AIDS. In the last 21 years the Trust has given away over 15 million dollars in his name and funded over 700 projects in the global battle against HIV/AIDS.
http://www.mercuryphoenixtrust.com
May LSM (Bagshaw Museum) - InTouch Foundation unfortunately had to pull out due to lack of volunteers for this weekend (students with exams being unavailable). InTouch is a not for profit organisation and is a community based effort. They came round our streets during the flooding last December with a catering van making sure everyone had hot food and drinks and they also address the plight of the homeless.
We will have them back at another event at some point in the future. Please support them through their website: http://www.intouchfoundation.co.uk/
Instead our Beanmaster (Coffee Jousting Host - our very own real life vicar!) stepped in at short notice and ran a tombola in aid of Wharfedale Refugee Response and raised £100!
Wharfedale Welcomes Refugees is a community group based in the villages of Burley-in-Wharfedale and Menston who want to work together to make a positive difference for refugees.
https://www.facebook.com/wharfedalerefugeeresponse
March 2016 LSM (Bradford Industrial Museum) - Middleton Railway
The Middleton Railway is the world's oldest working railway running steam and diesel trains from Moor Road to Middleton Park and is run entirely by volunteers. This is what they said of their time with us:
"Thanks for having us, we loved mingling and chatting to the 'punkers. Our members who saw your set up for the first time were most impressed and we took just over TWO HUNDRED pounds in donations and tombola. We also got some great ideas for your event in July...not least of all how to run the tea room! Thank you once again for your support and the generosity of your traders in their donations." (£203.13!!).
http://www.middletonrailway.org.uk/
December LSM (Thackray)
Buttercup Children's Trust spent the weekend running a tombola and raised a phenomenal £180. Thanks again to everyone who made it over through the terrible weather to support this event.
http://www.buttercupchildrenstrust.org.uk/
October LSM at Armley Mill
Narcolepsy UK did brilliantly and raised a whopping £170! Many thanks to everyone involved with donations and buying tickets.
June LSM, Thwaite's Mill
Delighted that St Vincents Support Centre managed to raise £150.35 over this weekend with the raffle and selling St V pens, badges etc. Many thanks to all traders for their donations and customers for spending their money
http://www.stvincents-svp.org.uk/
March LSM, Armley
We decided to make this one for the Barn Owl Trust as a tribute to Rocky who sadly passed away early in the year. We raised £153 with the help of many people and animals. Many thanks to everyone who donated and bought tickets!
http://www.barnowltrust.org.uk/
December 2014, Thackray
We raised £114. Many thanks to everyone who donated and bought tickets and especially to Emma Binns who did loads as I was on crutches with a fractured kneecap.
http://www.caninepartners.org.uk
Rob Bracewell has a companion called Whoopie and he said "Whoopi is trained to help me in many physical tasks, from opening a door, operating a lift call button, to picking things up and putting them away. On top of this she can assist in removing clothing, bringing things like my walking stick and generally be a close and trusted companion who can tell when I'm ill."
October 2014, Armley organised by Fran.
"The response was amazing and following those contributions we raised a whopping £105.60p from ticket sales, to be split between the two charities.
The 2 charities are Bradford Royal Infirmary Diabetes and Endocrinology Unit, and Medical Detection Dogs."
http://medicaldetectiondogs.org.uk/
http://www.bradfordhospitals.nhs.uk/diabetes-endocrinology

In July 2016, the charity was The Mercury Phoenix Trust. This is something very close to our hearts as we are both huge fans of Queen and 2016 was the 25th anniversary of Freddie Mercury's death so we wanted to do something special. The LSM event on this date was at Middleton Railway in Leeds so the steam trains tied in perfectly with the Breakthru video and so the event was named Steampunks Under Pressure. Si even shaved off most of his facial hair leaving just a tash to be "Freddie for a day".
Si made a special edition fund raising medal for this weekend.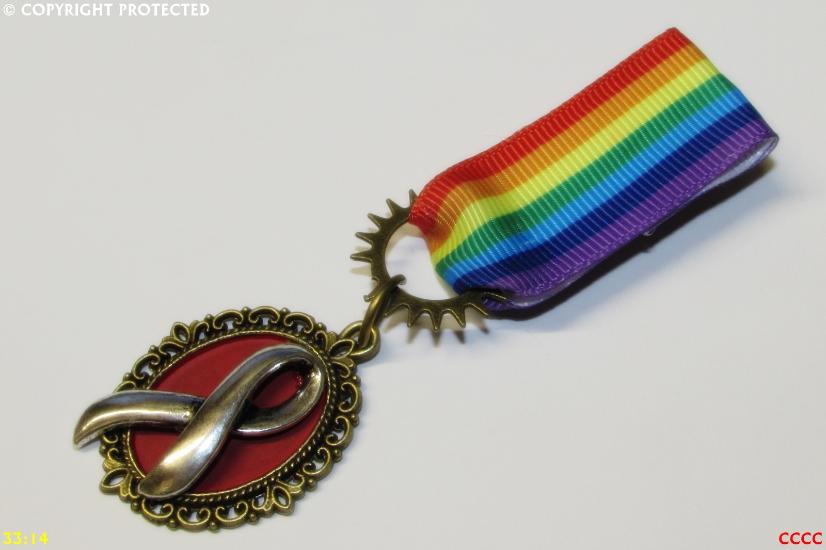 The medal overall measures 20mm x 90mm and is for sale at events for £6 and online for £6.50 plus postage. £2 goes directly to the MPT from each sale.
Just email leedssteampunkmarket@gmail.com if you would like any - postage rates are about to be increased by Royal Mail at the end of March 2017. Prices are currently £1.40 UK, £3.20 Europe, £4 zone 1 and £4.20 zone 2. These are not likely to go up by much to be honest!
Please note we do not post normal airmail to Israel, Brazil or Peru due to the amount of post that has gone missing. Customers from these countries must have to use a signed for/tracked service. Prices on request.