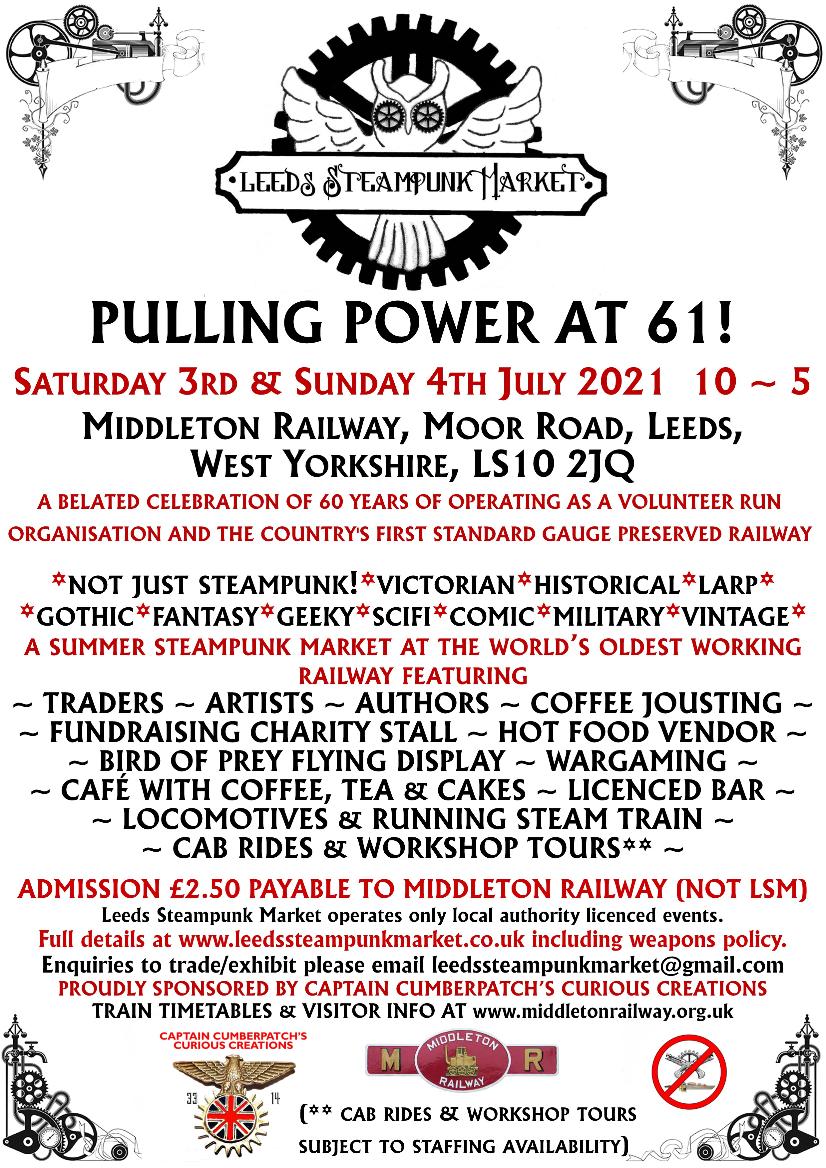 CANCELLED DUE TO COVID
We are here again on 3rd and 4th July 2021.
The trading times will be 10-5 on both days.
Moor Road, Leeds, West Yorkshire LS10 2JQ
This is a special event as they were supposed to be celebrating their 60th anniversary in 2020.
60 years of operating as a volunteer run organisation and the country's first standard gauge preserved railway.
Preservation pioneers!
The Middleton Railway is the world's oldest working railway running steam and diesel trains from Moor Road to Middleton Park. This will most likely be running a steam train all weekend - timetable shows first departure from Moor Road at 11am and last one at 4pm.
An extensive museum collection is usually on display in the Engine House - most of these are moved out onto the tracks for this event allowing us space for the traders.
It is run entirely by volunteers and entry to the market will be £2.50 per adult, children free - all proceeds go to the Railway.
Cab rides in the locomotives are available for a small extra charge and workshop tours but this will be dependent on available crew (which are volunteers) on the day. Driver for a Fiver and Footplate rides will be upon request but do please be aware that large elaborate outfits don't mix well with steam loco footplates designed in 1900!!
You can combine unlimited rides on the train with a visit to the park, and this makes a fun day out for all the family.
Prices are correct at time of going to press but please check their websites for updates: adult £8.50 return, child £3.50 return, family ticket £20 return.
(Children aged under 3 years travel free, children aged 3 to 15 years inclusive need child tickets, those over 15 years need adult tickets, up to 2 adults and 3 children can use a family ticket, pets can travel free
Prices correct at time of this being made public (Jan 2020) so please check first.
There is a shop that sells souvenirs, sweets and hot and cold drinks. This is going to be expanded into the seating area having a lot more cakes thus becoming a tearoom.
There will also be a hot food trader outside and someone selling alcoholic refreshments (tbc).
This will be an interactive event, with traders in the Engine House only on the ground floor and having tabletop gaming on both days.
There will be coffee jousting on one of the days, recruiting from an hour before the tournament with medals for gold, silver, two bronze and the Coffee Bean (host) made by Captain Cumberpatch's Curious Creations. Free to take part! This will be at 2.30pm so sign up from 1.30pm.
There will also be a fund raising tombola run on both days as well which all the traders will have donated items to.
There will be entertainment on of some sort, also
The Flying Squadron with one (or possibly even two) of their owls demonstrating their charm and style will be in attendance there again on at least one of the days
https://www.facebook.com/TheFlyingSquadron
Steam trains are planned to be running all weekend.
The first train departs at 11:00.
Later trains are at: 11:40, 12:20, 13:00, 14:00, 14:40, 15:20, and 16:00 on both days.
Please note that there is easy disabled access to all of the building including the upstairs conference room and public areas of the railway.
Please note this museum and
car park is secured overnight so they do not allow overnight parking. Anyone wishing to park up overnight for trading or visiting in a campervan are advised to look around for an alternative solution, perhaps one of the neighbouring side streets? There is a large carpark a short distance away at the retail park (where B&M and The Range is) but don't know if they allow overnight parking. Lorries do park up along the road leading into this car park. They also used to park up next to the park at the end of the street where we used to live. Look up Longroyd Beeston and you'll find them on the map. It's only a couple of minutes away.
If you can't join us that weekend, do please support them after the horrendous damage they suffered one week after our event in the summer of 2018 which was caused by the arson attack on the neighbouring woodyard.
HOW TO GET THERE
The Middleton Railway is situated about 2 miles south of Leeds City Centre alongside the M621 Motorway at Junction 5.
The postcode is LS10 2JQ and the map reference of Moor Road Station is SE 3051 3100 or 53.77479N 1.53835W
By Car
Approaching Leeds from the south on the M1.
At Junction 43 follow the signs for the M621 (City) and leave at Junction 5.
Approaching from the north on the A1, join the M1 link,
Leave at Junction 44 and follow the A639 towards Leeds. After about 1 mile join the M621 at Junction 7. After a further mile, leave at Junction 5.
JUNCTION 5, at top of slip road turn right, caution dual carriageway, 100 yards roundabout, leave at third exit, the Railway is on your right.
From the west using the M621 towards Wakefield.
Leave at Junction 6. DO NOT use junctions 4 & 5 in this direction. At the bottom of J6 slip road, turn left, take the next left (Moor Road) at the mini roundabout go right, the Railway is 300 yards on your left, just after crossing the rail tracks in the road.
By public transport
Numerous bus services run along Dewsbury Road from various parts of the city including First Bus and Arriva, from the Corn Exchange, Bus station and Train Station. Alight at Tunstall Road. The walk from here takes 5 - 10 minutes.
For more information about bus and mainline rail travel, visit West Yorkshire Metro where you can view timetables and plan your journey with the help of their Journey Planner. Just enter Middleton Railway as your destination. The information on here is correct at the time of going to press but do please check in case route numbers and times change.
MetroLine travel information: 0113 245 7676
(7am-10pm, seven days a week, except Christmas Day, Boxing Day and New Year's Day)
Alternatively, taxis from Leeds Centre cost around £5. These need to be phoned and booked and will pick you up from the rear of the station. Leave through the main ticket barriers, in the concourse go left past the ticket office and machines, past Sainsbury's and the fast food outlets - just before the Wetherspoons there are a set of doors on your left. This is the collection point. Or you could walk round the side of the station (from the front or rear doors) and stand outside the Queen's Hotel and ask them to pick you up from there.
Taxi numbers: Amber 0113 231 1366
Ace Cars 0113 230 4499
Beeston Line 0113 270 4321 & 277 0738
Geegee cars 0113 277 9889
Blueline Taxis 0113 244 5566
Wheels Taxis 0113 249 9999
If you choose to get a black & white taxi from the rank at the front of the train station, be warned, these are the council run ones and will cost you more. £1 - £2 extra!