LEEDS INDUSTRIAL MUSEUM AT ARMLEY MILL
.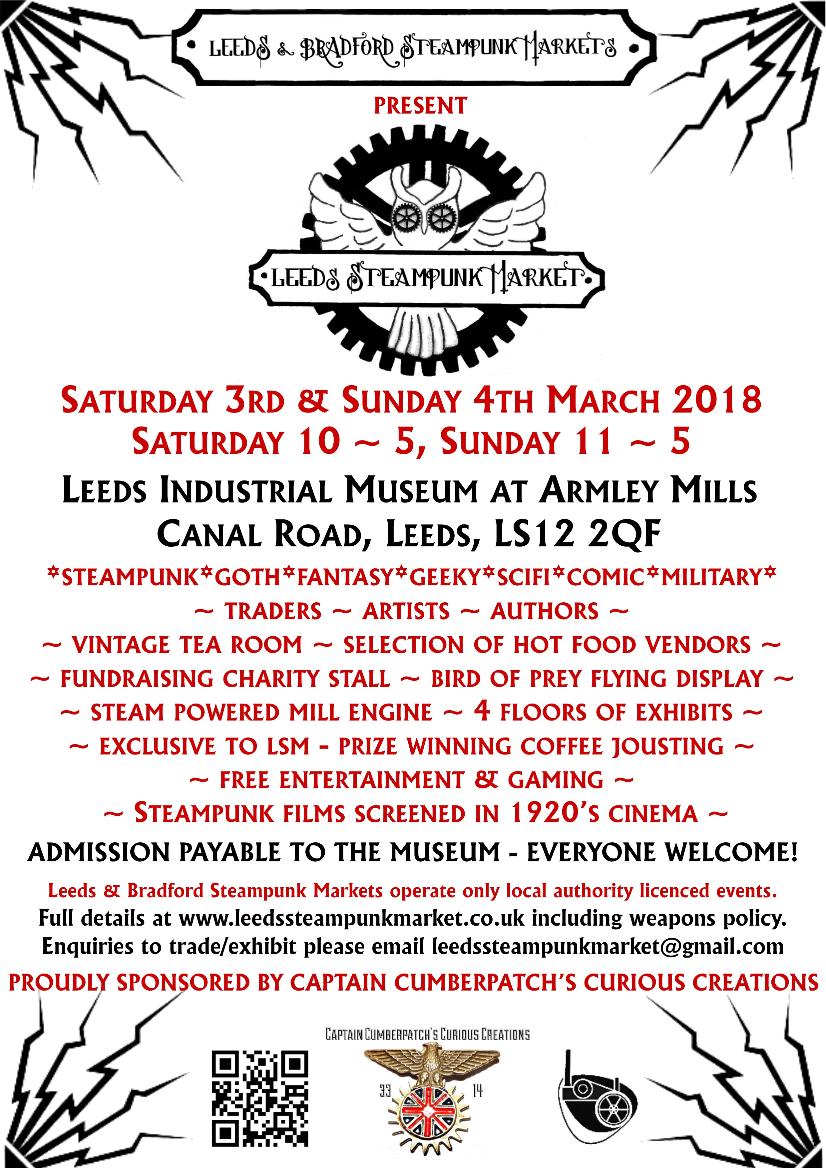 The weekend will be as follows:
Doors open at 10am on Saturday, 11am Sunday all stalls open and trading up to 5pm.
There will be some sort of entertainment on at 12pm both days.
At 2pm on both days a flying display from one of Amy Jo Lawrance​'s owls from her Flying Squadron https://www.facebook.com/TheFlyingSquadron.
Recruiting for the Coffee Jousting (that's right, we do things different at LSM!) commences from 3pm for the tournament to take place at 4pm.
(Rules on coffee jousting are on a separate post/tab on this website).
Captain Cumberpatch's Curious Creations will be donating medals for the prizewinners (both 1st and 2nd) and one also for the Coffee Jousting Beanmaster (the host).
We will have gaming on (actual names yet to be confirmed) and they will be upstairs in the boardroom just above the cafe.
The gorgeous
1920's
cinema on the 2nd floor (that's one down from the entrance level!) will be showing various steampunk films - titles to be confirmed. Each film is around 90 minutes long and will be shown at 11.30 and 2pm each day.
Don't forget, if you attend on the Saturday, retain your ticket as it will gain you free admission on the Sunday - worthwhile as the traders won't be the same on both days as around 1/3 only do one day.
There will be 50 traders on two floors which will not be all the same people on both days.
There will be a tombola run to raise money for a named charity which all the traders will be donating to.
A vintage tearoom will be there for the weekend selling lovely homemade cake and cuppas as well as a few hot food vendors and drinks tents on the picnic area (as there's nowhere else close really for normal food nor a pub!)
Don't forget you need to pay admission to the museum itself as you will be able to see all the exhibitions there as well. If you come along on the Saturday, retain your admission receipt as it will gain you free entry on the Sunday.
Customers will be paying normal admission to the Industrial Museum itself to be able to access the traders as you will be mixed in with the whole building, the displays and the layout. These prices are correct at time of going to press (Nov 216) but their admission prices now are:
Adult £3.80
Concession £3.00
Child £1.90 Children under 5 years are free.
Family (up to 2 adults + 3 kids) £8.00
Group: The concessionary rate applies per person for pre-booked groups of 10 or more
Membership: Admission is free to members of the Leeds Art Fund, Friends of Leeds City Museums and the National Arts Collection Fund.
Max card: General admission is free
Leeds card: Adult: £3.00 Concessions: (LX, Over 60 & 60 Extra) £2.23. Child: (Breeze Card) £1.45. Family: £6.40 Leeds card family rate applicable where anybody in the party offers a Leeds card or Breeze card. Please make sure you have your card with you.
Dogs of all shapes and sizes are welcome at this museum, both in the buildings and out in the grounds. Please do keep an eye on your pet at all times so that they do not "mark" anywhere, be it the walls of the building or a trader's tablecloth. Also ensure you have the necessary poop bags/tissues/wet wipes etc to clean up any "accidents".
Also please be aware there are no cash point machines on the site - the nearest one would be if you walked back up to Town Street or over the foot bridge to Cardigan Fields and there is one in the wall of Hollywood Bowl which charges you for the privilege.
You can get to Armley Mills by getting on a number 15 bus from the town centre. There is a bus stop just outside the main doors of the train station in Leeds centre and the number 15 bus drops you off opposite the carpark of Armley Mill on Canal Road.

Weapons policy can be seen here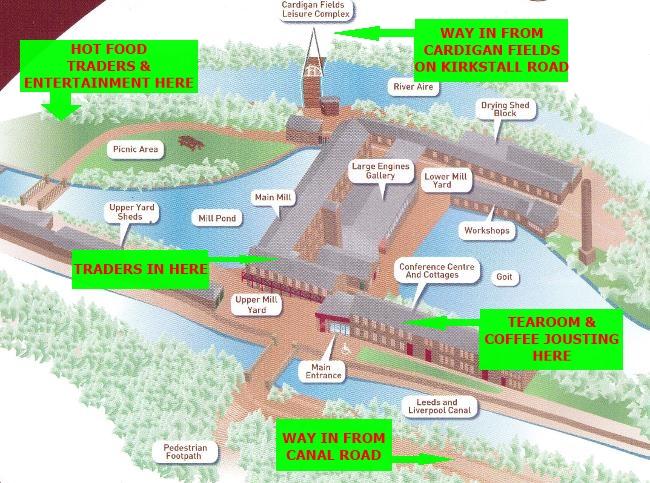 BUS INFORMATION
Link to timetable for bus no 15
PLEASE NOTE THE BUS ROUTE YOU NEED IS NO LONGER NUMBER 5!
There is a bus stop just outside the main doors of the train station in Leeds centre and
the number 15 bus drops you off opposite the carpark of Armley Mill on Canal Road.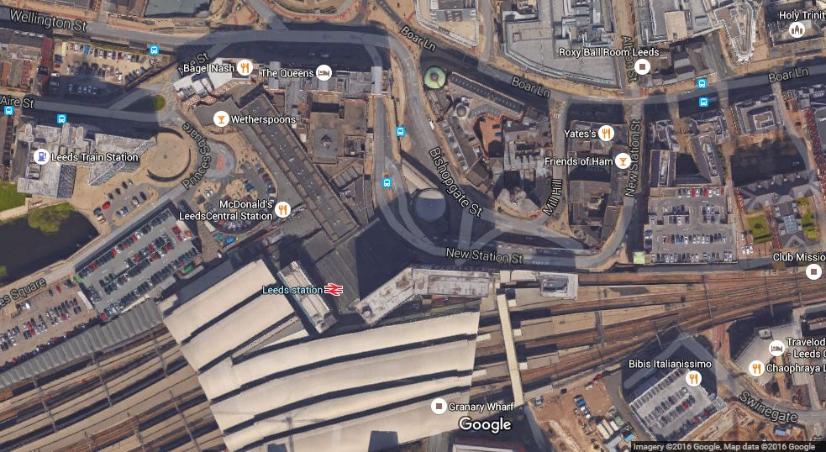 The only car park on Canal Road fills up quickly. This is part of the museum and is free parking and is just a two minute walk up the drive to the front of the building.
You can park at Cardigan Fields Leisure Complex just off Kirkstall Road. Head for the top left hand corner, just past Hollywood Bowl and Frankie & Benny's, there is a footbridge that brings you in at the bottom of the museum. Once you have walked over it you just need to walk to your right to follow the path through the picnic area back up to reception to pay your admission to get into the building.