LEEDS STEAMPUNK VIRTUAL MARKET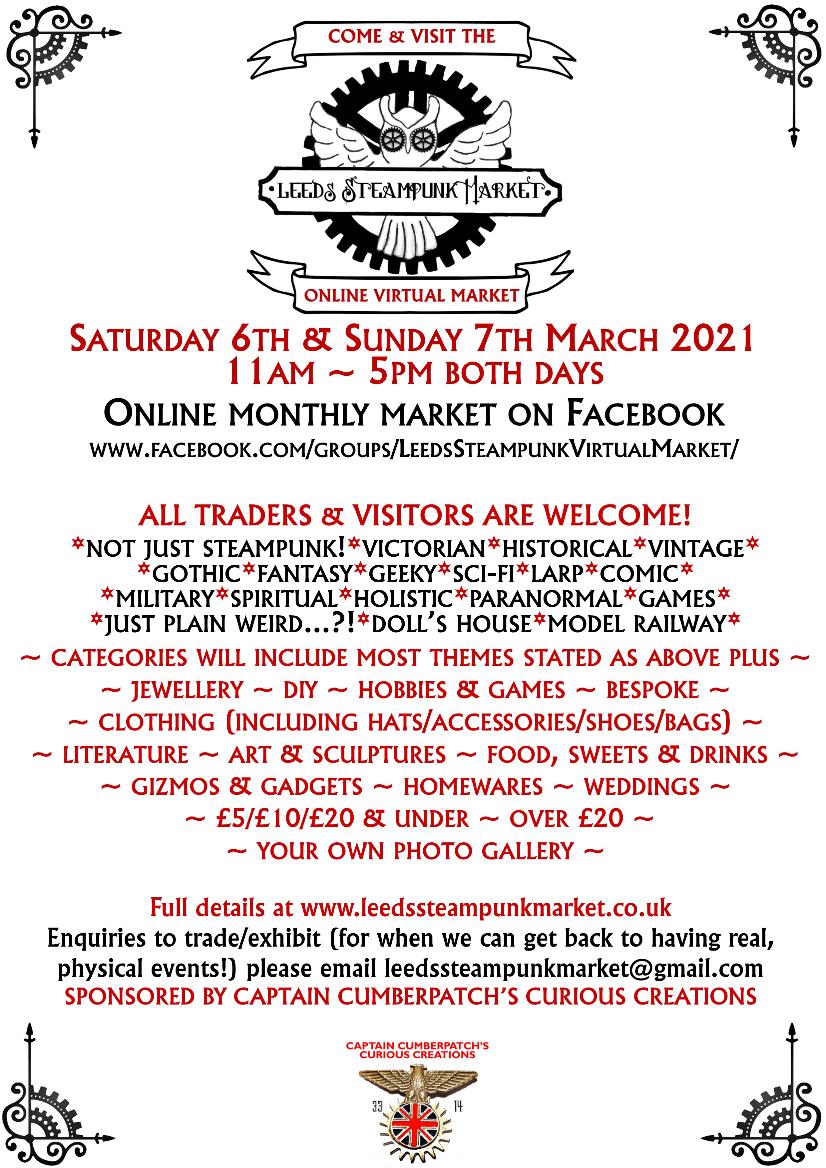 LEEDS STEAMPUNK VIRTUAL MARKET
6th and 7th March 2021 11am - 5pm on Facebook
A monthly event until we can get back to being together in the real world so the next LSVM will be Saturday and Sunday 6th and 7th March running from 11-5 each day.
Here's how it's going to work.
Join the group here:
Any questions to do with items posted, please contact the seller direct as shown in their post. Comments tend to get buried and lost in the feed of notifications and commenting will be disabled outside of the hours of trading (11-5).
You are welcome to post a photo of YOU in your finery (not a product on its own!) or of memories from past events, to the main feed of the group with the captions
#WishWeWereHere
#LeedsSteampunkVirtualMarket
- that way it will be like just bumping into people you know as you wander around.
CATEGORIES, THEMES & PRICES:
I'll be making brand new graphics for the categories, themes and price points and putting them on here during the week before the event. This is where the traders will be posting their items.
There will be one on there early saying "sorry we can't be with you" for traders that just can't be there for the weekend for whatever reason.
Art & sculptures – anything visual that has no other purpose than to be admired! (NO GADGETS OR PLUSH PLEASE)
Bespoke - custom, commission and one offs (NOTHING TO DO WITH WEDDINGS PLEASE)
Clothing
- anything that can be worn or to accompany an outfit including headwear (including hats, fascinators, tiaras, hair clips etc), goggles, footwear, gloves, spats, muffs, accessories, pouches, utility belts, purses and bags (NO JEWELLERY OR MEDALS PLEASE)
DIY - loose components and parts including fabric to make your own stuff
Gizmos & gadgets - inventions of all sorts and guns
Hobbies & games - Gaming groups, wargaming miniatures, model railway, doll's house, funky and retro toys etc
Holistic, spiritual & paranormal - ghost hunts / investigations including merchandise and paranormal equipment, religious themed items, crystals, healing stones and treatments, tarot readings, psychics, clairvoyants, clairaudients etc (appropriate jewellery or related items allowed)
Home & personal - toiletries, electrical, lamps, wall coverings, soft furnishings, mugs, crockery, glassware, vases, cards, keyrings, fridge magnets, coasters, place mats, plush (soft animals) (NO ART, JEWELLERY, GADGETS OR ORNAMENTS PLEASE)
Jewellery - medals, brooches, earrings, cufflinks, bracelets, necklaces, kilt pins etc (NO HAIR CLIPS OR TIARAS PLEASE, THEY GO IN CLOTHING AS HAIR ACCESSORIES)
Literature - books, comics, graphic novels and authors (items themed for authors and writers are allowed)
*NEW ADDITION* Music & entertainment - Live streaming, videos, merchandise, cds, dvds, links to entertainment that can be booked for forthcoming events
/ gigs
Tasty! - anything edible and drinkable - food, drink, sweets, links to hot food traders, gin bars, cafes etc allowed (items themed for food and drink are allowed)
Fantasy - fictional stuff like dragons, faeries, gryphons, cthulu, unicorns, Pegasus, mythical, Harry Potter, Lord of the Rings, etc
Geeky, LARP, sci-fi & comic
- Live Action Roleplaying characters and accessories, Dr Who, Star Wars, Star Trek, X-files, aliens, night sky etc, anything to do with comics & graphic novels, superheroes, cartoons, Pokemon, collector's cards etc and the sort of quirky things found at comic-cons
Gothic
- think ravens, bats, skulls, etc
Steampunk
- stereotypical themes like top hats, pith helmets, corsets, goggles, anything with the usual clocks & cogs on etc. Pirate, dieselpunk and cyberpunk etc included (NOT GOTHIC)
Vintage, Victorian, military & historical - All original old, vintage and retro items only please (NO STEAMPUNK THAT "LOOKS VICTORIAN / MILITARY" - HISTORICAL RE-ENACTMENT REPLICAS ARE ALLOWED)
Wedding
- wedding specific stuff only please (use the "bespoke" for anything else)
£5 and under (obvious!
)
Price can be with or without postage
£10 and under
(
must be over £5
so from £5.01 up to and including £10)
Price can be with or without postage
£20 and under (must be over £10 so from £10.01 up to and including £20)
Price can be with or without postage
Over £20 (do I really need to explain this?!)
Price can be with or without postage
Although this is an LSM selling group, new traders are welcome that have not traded at LSM before due to geographical reasons as with being online - you can sell from anywhere to anywhere!
Anything posted must come within the realms of what traders at LSM actually sell so themes of steampunk, Victorian, military, gothic, dark and spooky, paranormal, holistic, spiritual, faery, pagan, LARP, roleplaying, historical, heritage crafts, Sci-Fi, Harry Potter, Alice in Wonderland, geeky, nerdy, comics, gaming, modelling (railway and doll's house), a bit of Boardwalk Empire/Game of Thrones thrown in, vintage, alternative, weird and just plain unusual. Nothing in the realms of just regular / normal crafting please unless you've traded at an LSM before and had them along with other items.
No burlesque, fetish or underwear allowed.
The graphics (as named above) will be posted within the LSVM group sometime in the week up to the date of the market. Commenting on these will be disabled outside of the trading hours of 11 - 5 on each day to prevent traders from posting when they shouldn't. The graphics are then left on until the following market.
1) Each trader is limited to 5 posts per relevant graphic per day.
2) No posting in fast succession - you must leave at least half an hour before posting again in the same category. This will ensure a steady mix from all different traders throughout the day in order to give the visitors some variety rather than seeing a whole load of stuff all by the same person in one go. This doesn't stop you from going straight to a different graphic and posting in there though (price, category or theme).
3) Compilation / collage images of multiple items are allowed but each must be posted as one image = one post. All information including links relating to all items in this collage must all be contained within the description posted with it at the time. Do NOT immediately follow up by doing replies to your post with additional comments, links and pictures! (See rule 2). Please edit your original post if you forgot to write something in. If a customer comments on your post and asks about other items, please continue your conversation with them via pm, not on the feed from your post.
4) Duplicate posts ARE allowed in multiple graphics although to make best use of your posts, I would prefer your posts to showcase different items. (Plus why would you waste your allocated number of permitted posts by showing the same thing?)
5) If you have multi purpose items, ie a hair clip that can also be worn as a brooch because it has 2 types of fastening on the back, please follow this instruction. List it under clothing, name it as a hair clip, then state further down in the description it has an additional fastening on the back so it can also be worn as a brooch. The same item can also be listed under Jewellery just word it the other way round - name it as a brooch, further down, clip to wear as hair decoration. (Or you could just list it as an option to choose which fastening your customer wants on it, glue it on, post the next day?)
6) All traders must supply a direct link to the item itself where the customer can go to make their purchase – eBay, Etsy, website, Folksy, Artfire, Facebook page etc. All links must be included in the original post, not as additional replies/comments. If you do not have any of these, you must state for customers to message you directly and supply contact info accordingly (email or via PM on Facebook). (see rule 7) In the past, traders have had their posts removed/blocked by Facebook as spam so please ensure the link you supply takes customers directly to the specific item. If you do a general link just to your shop then Facebook WILL assume you're spam as it will flag up as repeated too often.
7) No selling posts outside of the trading hours 11-5 (UK). This is why commenting on the categories is switched off outside of the trading hours of 11-5.
8) You may introduce yourself in the main feed of the group at any time with a link to an online presence at any time – no additional photos or video are to be included in the post.
9) Product specific selling posts are not permitted in the main group feed - they must be under the appropriate category on the appropriate dates.
10) Posts in the wrong category will be removed - this happens a lot in the clothing and price point graphics.
11) Don't forget to include the price of the item, postage cost and other shipping details (such as how often you go to the post office) in your listing.
12) If you can't be with us for the weekend, you can do a post under the "sorry we can't be with you" graphic which is up earlier than the others with commenting enabled.
Any posts or comments not following these simple rules will be deleted and feedback given.
Repeat offenders will be removed from the group.
Quite a few people had trouble posting at previous events - too much in the feed of the group perhaps? When I have the time I delete the old categories from previous events - this should make things load more quickly and will also mean everyone starts on the same level. So do please go through the old categories today to find your posts and get in touch with anyone that commented. I'm going to do my best to delete them in the week before the next market so this gives you time not to miss out on any potential sales. These still will be set as "commenting disabled" though.
These changes are again as a result of feedback received.
I originally reduced the number of categories as there were two customers had said there were too many to navigate. I'm going back with the majority input now as less people took part and once I added back in themes, more people got involved and better sales as a result.
The suggestion of issuing timeslots per trader is too difficult to administer as there are too many traders. Everyone would fight over the "best" timeslots (whatever they would be) as people have other commitments to take care of during the day as well. As everyone seemed to have internet problems at some point last time (including me!) it could result in traders completely missing their slot.
I can't do anything about the notifications everyone gets – this is something Facebook does automatically as all your posts are effectively "comments" on the same photos.
I won't be online to approve new members or anything out of the ordinary after 5pm on the weekend itself but it should pretty much run itself tbh! I will be popping into the group on a regular basis before hand to approve new members and the appropriate posts as advised. I also have a few people on here as admins to help keep on top of things as well.
If you've applied to join and not been accepted, please pm me, either to the Leeds Steampunk Market page or to my profile (Jo Dee Burgoyne-Neal). Chances are you didn't answer the questions so I've assumed you changed your mind about joining and just exited the process so I have deleted the application. Just re-apply and make sure you answer the questions please!
I'm trusting everyone to play nicely. No posting stuff you shouldn't, no harassment, nothing offensive, nothing racist, no starting fights, no arguing with any of the admins over a post of yours they removed and this is a politics/Brexit free zone!
Basically, don't be a git!
As the LSM markets have all been cancelled, then this is going to be a not quite monthly occurrence, usually on the first weekend of each month so will be:
Keep an eye out for updates on live real physical events.
An actual Leeds Steampunk Market is planned for the first weekend of October at Leeds Industrial Museum at Armley Mill, Leeds, West Yorkshire with LSM social days out planned for the other weekends which should have otherwise been markets as well.
2021
LEEDS STEAMPUNK VIRTUAL MARKET
6th & 7th March 2021 11am - 5pm on Facebook
LEEDS STEAMPUNK VIRTUAL MARKET
5th & 6th June 2021 11am - 5pm on Facebook
LEEDS STEAMPUNK VIRTUAL MARKET
7th & 8th August 2021 11am - 5pm on Facebook
LEEDS STEAMPUNK VIRTUAL MARKET
6th & 7th November 2021 11am - 5pm on Facebook