LEEDS STEAMPUNK VIRTUAL MARKET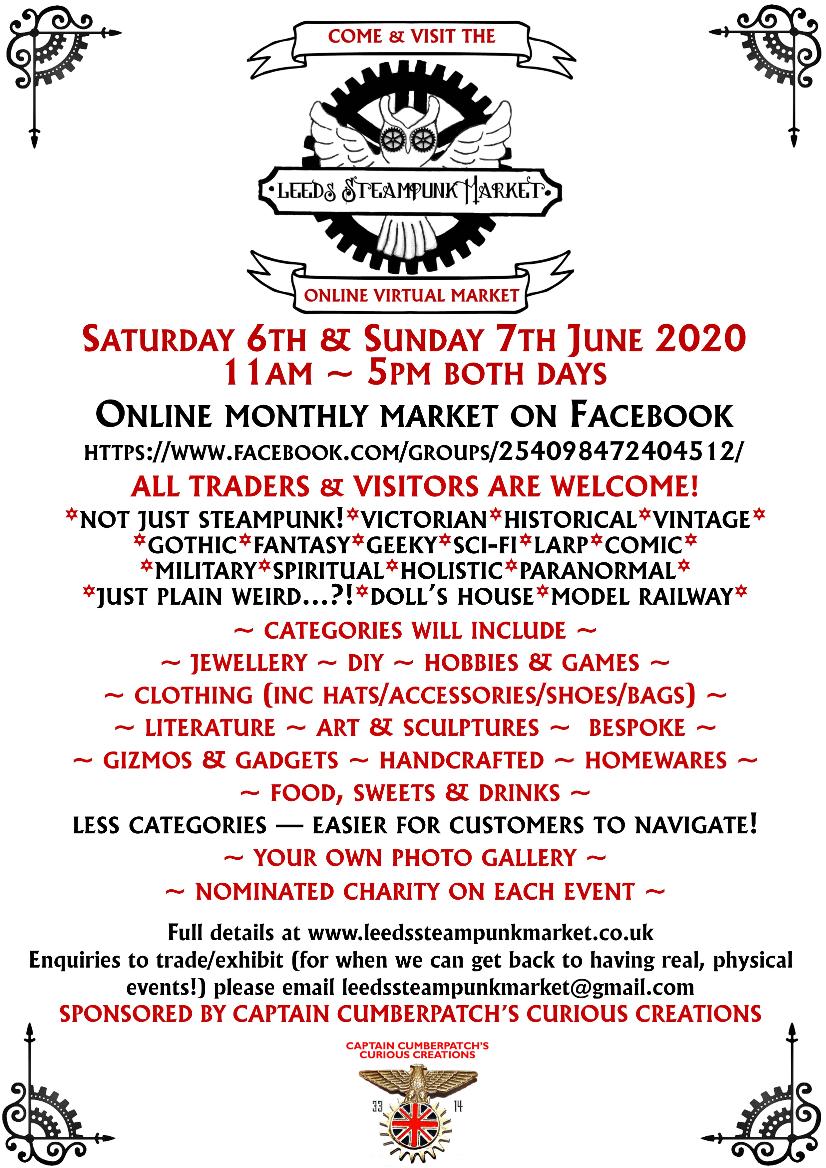 LEEDS STEAMPUNK VIRTUAL MARKET
6th & 7th June 2020 11am - 5pm on Facebook
Here's how it's going to work.
Join the group here:
The event will be on from 11am to 5pm both days.
Although this is an LSM selling group, new traders are welcome that have not traded at LSM before due to geographical reasons as with being online - you can sell from anywhere to anywhere!
I'm going to create categories using individual graphics which
will be:
~ jewellery ~ diy ~ hobbies & games ~

clothing ~

literature ~ art & sculptures ~ bespoke ~

gizmos & gadgets ~ handcrafted ~ homewares ~

tasty! ~
Jewellery (medals, brooches, earrings, bracelets, necklaces, kilt pins etc)
Clothing (anything that can be worn or to accompany an outfit including headwear, goggles, shoes, gloves, spats, accessories, purses and bags)
Art & sculptures – anything visual that has no other purpose than to be admired!
Gizmos & gadgets (inventions of all sorts)
Literature (books, comics, graphic novels and authors)
Home (toiletries, electrical, soft furnishings, spiritual, holistic)
Bespoke (custom, commission and one offs)
Handcrafted (items not applicable to any of the other categories - made of textiles, leather, wood, metal etc)
DIY (loose components and parts to make your own stuff)
Tasty! (food, drink, sweets, links to hot food traders, gin bars etc allowed)
Hobbies & games (wargaming miniatures, model railway, doll's house, tabletop gaming groups)
There are less categories than last time so easier for customers to navigate!
There will not be a category for charities. Each event will have a nominated charity with a link and everyone (traders and visitors) is invited to donate. Even just £1 each – with the amount of members and traffic on here last time, this would be a huge boost!
There will be one on there early saying "sorry we can't be with you" for traders that just can't be there for the weekend for whatever reason.
Anything posted must come within the realms of what traders at LSM actually sell so themes of steampunk, Victorian, military, gothic, dark and spooky, paranormal, holistic, spiritual, faery, pagan, LARP, roleplaying, historical, heritage crafts, Sci-Fi, Harry Potter, Alice in Wonderland, geeky, nerdy, comics, gaming, modelling (railway and doll's house), a bit of Boardwalk Empire/Game of Thrones thrown in, vintage, alternative. No burlesque, fetish or underwear allowed.
Rules for posting:
1)
Each trader is limited to 5 posts per relevant category per day.
2)
Compilation / collage images of multiple items are allowed but each must be posted as one image = one post.
3)
Duplicate posts are not allowed in multiple categories – all posts must be different.
4)
Consecutive posts in one category not allowed. You must wait for at least one other person to post after you before posting your next item.
5)
All traders must supply a link to where the customer can go to make their purchase – eBay, Etsy, website, Folksy, Artfire, Facebook page etc. If you do not have any of these, you must state for customers to message you directly and supply contact info accordingly (email or via PM on Fb). Commenting will be switched off outside of the trading hours of 11-5.
6)
No selling posts outside of the trading hours 11-5 (BST UK). Again, this is because commenting will not be allowed!
7)
You may introduce yourself in the main feed of the group at any time with a link to an online presence – no additional photos are to be included in the post.
8)
Product specific selling posts are not permitted in the main group feed - they must be under the appropriate category.
Any posts or comments not following these simple rules will be deleted!
Customers / visitors:
Any questions to do with items posted, please contact the seller direct as comments tend to get buried and lost in the feed of notifications.
Everyone:
You are welcome to post a photo of YOU in your finery (not a product on its own!)
or of memories from past events,
to the main feed of the group with the captions #WishWeWereHere #LeedsSteampunkVirtualMarket -
that way it will be like just bumping into people you know as you wander around.
These changes are a result of feedback received.
Hopefully, this will reduce the number of categories customers need to scroll through. It will stop traders just copying and posting the same thing into different categories and posting everything all in one go.
The suggestion of issuing timeslots per trader is too difficult to administer as there are too many traders. Plus, everyone would fight over the "best" timeslots (whatever they would be) and as everyone seemed to have internet problems at some point last time (including me) it could result in traders completely missing their slot.
I can't do anything about the notifications everyone gets – this is something Fb does automatically as all your posts are effectively "comments" on the same photos.
I won't be online to approve new members or anything out of the ordinary outside of 11-6 on the weekend itself but it should pretty much run itself tbh!
I'm trusting everyone to play nicely. No posting stuff you shouldn't, no harassment, nothing offensive, no starting fights.
Basically, don't be a git!
As another LSM has been cancelled, then this is going to be a monthly occurrence on the first weekend of each month - f
ingers crossed the Halifax Steampunk Market will be able to go ahead on 3rd and 4th October.
LEEDS STEAMPUNK VIRTUAL MARKET
4th & 5th July 2020 11am - 5pm on Facebook
LEEDS STEAMPUNK VIRTUAL MARKET
1st & 2nd August 2020 11am - 5pm on Facebook
LEEDS STEAMPUNK VIRTUAL MARKET
5th & 6th September 2020 11am - 5pm on Facebook