LEEDS HALF MARATHON SUNDAY 14TH MAY 2017
PLEASE NOTE ALL THIS INFORMATION HAS BEEN SUPPLIED BY THE MAIN WEBSITES INVOLVED AND IS WHAT WAS SUPPLIED FOR THE 2016 RUN. THE COURSE HOWEVER REMAINS THE SAME EVERY YEAR SO AT THIS POINT WE CAN ONLY ASSUME THE ROAD CLOSURES WILL ALSO BE THE SAME AS BEFORE.
(Map shown below from 2016).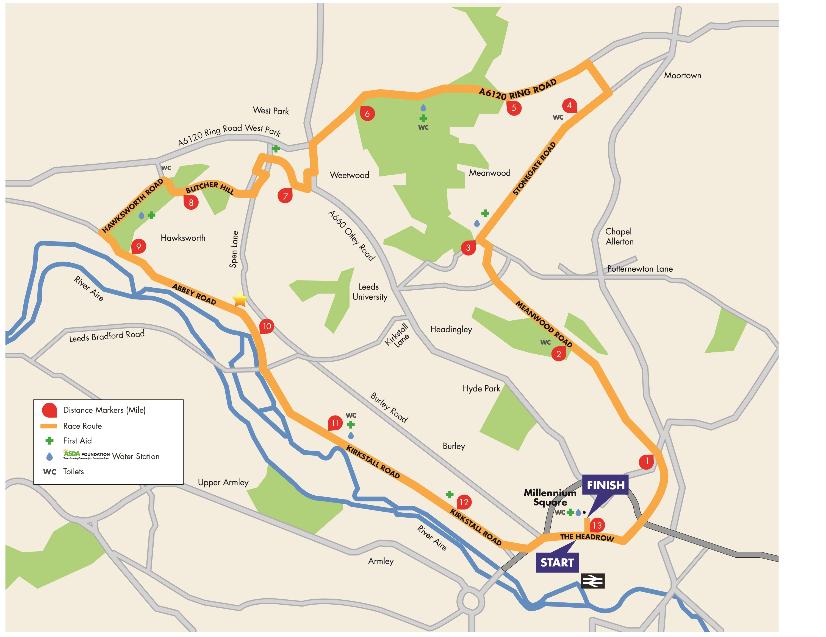 The streets of Leeds will come alive on Sunday May 14th when thousands of runners turn out to help the Plusnet Leeds Half Marathon celebrate a special milestone.
It will be the 32nd running of the event – Yorkshire's biggest hospice run – which previous years have each raised an astonishing £150,000 alone for its 10 partner charities.
The race organisers are now advising runners, spectators, residents and visitors that a number of the city's roads will be closed or have access restricted to ensure the safety of all those taking part.
Closures will begin from 4am on May 14th and will affect roads around the 13.1 mile course. Routes will reopen on a rolling timetable as soon as it is safe to do so.
The race starts at 9.30am in The Headrow and the course takes the field out of the city centre, along Meanwood Road, Stonegate Road, a section of the Ring Road, down Butcher Hill and Hawksworth Road, along Abbey Road and Kirkstall Road and back into the city centre to finish in Cookridge Street alongside Millennium Square.
Among the city centre roads affected by the closures are: The Headrow between Oxford Place and Briggate; Cookridge Street; Westgate; New Briggate; Great George Street between Calverley Street and Woodhouse Lane; Upper Basinghall Street and North Street.
Away from the city centre, Meanwood Road will be closed between 9am and 11am. Bentley Lane, Stainbeck Avenue, Stonegate Road, King Lane, Weetwood Road, Spen Road, Commercial Road and Kirkstall Lane are also among the roads affected.
A full list of road closures from 2016 is available here (link to PDF).
Once we have an up to date list of times we will add it so do please keep an eye on here for updates.
The event's official partner charities are: St Gemma's Hospice in Leeds; Sue Ryder; Martin House Children's Hospice in Boston Spa; Macmillan ; Overgate Hospice in Elland; Forget Me Not Children's Hospice in Huddersfield; CLIC Sargent; Leeds Children's Hospital Appeal; Marie Curie in Bradford; and the Jane Tomlinson Appeal.
Links to websites for up to date information on the race:
http://www.janetomlinsonappeal.com/our-events/2017/05/leeds-half-marathon-2017/
http://www.runforall.com/half-marathon/leeds/
http://www.theyorkshiremarathon.com/events/plusnet-leeds-half-marathon/
http://www.halfmarathonlist.co.uk/leeds-half-marathon.php
https://www.sense.org.uk/content/leeds-half-marathon-2017
https://www.parkinsons.org.uk/content/leeds-half-marathon
http://www.operationsmile.org.uk/index.php/get-involved/events/
2016 ARTICLES
http://www.yorkshireeveningpost.co.uk/news/winners-one-and-all-leeds-half-marathon-laps-up-the-heat-gallery-1-7899068
SO WHAT DOES THIS MEAN FOR VISITORS & TRADERS?!
We open for trading at 11am and usually load in for 10am on Sundays but on this occasion you have to ensure you get to us before the roads get closed off.
We will get there for 8am and you MUST BE HERE BY 9AM. Please check the link for the PDF in the above section - this shows that the timings they have given in the past on the roads nearest the Abbey House Museum have altered slightly - earlier time for the beginning of the closures, later time when they are re-opened. We can only assume that out of the 9,000 runners, the faster ones have become even faster and the slower ones need a little longer (more than either of us could manage to be honest!)
We cannot emphasise enough that if you do not get to us within the allocated time you will NOT be able to set up. The back doors can only be open for loading in whilst the museum is closed to the public.
On the positive side, this museum usually gets around twice the amount of visitors that either Armley or Thwaite Mills do on a weekend. This has increased significantly on past years when this run has happened so although we may have a quieter start, make the most of it as once the visitors start rolling in you won't get time to draw breath.
This event was only brought to the attention of the museum on Thursday 9th March 2017 (last week at the time of updating this) when they received what we believe to be a courtesy email from the organisers. The museum advised us when we phoned up on Friday 10th to double check on other aspects (power point locations and loading in). They were not aware of this when we visited the museum on 10th May last year with a view to running an event here as the run does not happen on the same weekend each year.
If you were planning on getting here by public transport (traders and visitors), please triple check how this event affects the buses in this area etc.
UPDATED INFORMATION FROM RUN FOR ALL
"On Sunday the race starts at 09:30 and we are predicting our final runner to cross the finish line at 13:00. I have attached a 2016 road closure poster to advise you on access around the route, please note, this is a 2016 version and it is subject to change.
Your staff members will be able to gain access to the museum before 09:00, as road closures along Kirkstall Road aren't implemented until after 09:00, but please advise your staff members to plan their travel with plenty of time to avoid traffic. The general public will also be able to gain access to the museum during the race, as the Inner Ring Road will be open and the public can access the museum via Woodhouse Lane, Headingly Lane and Otley Road."