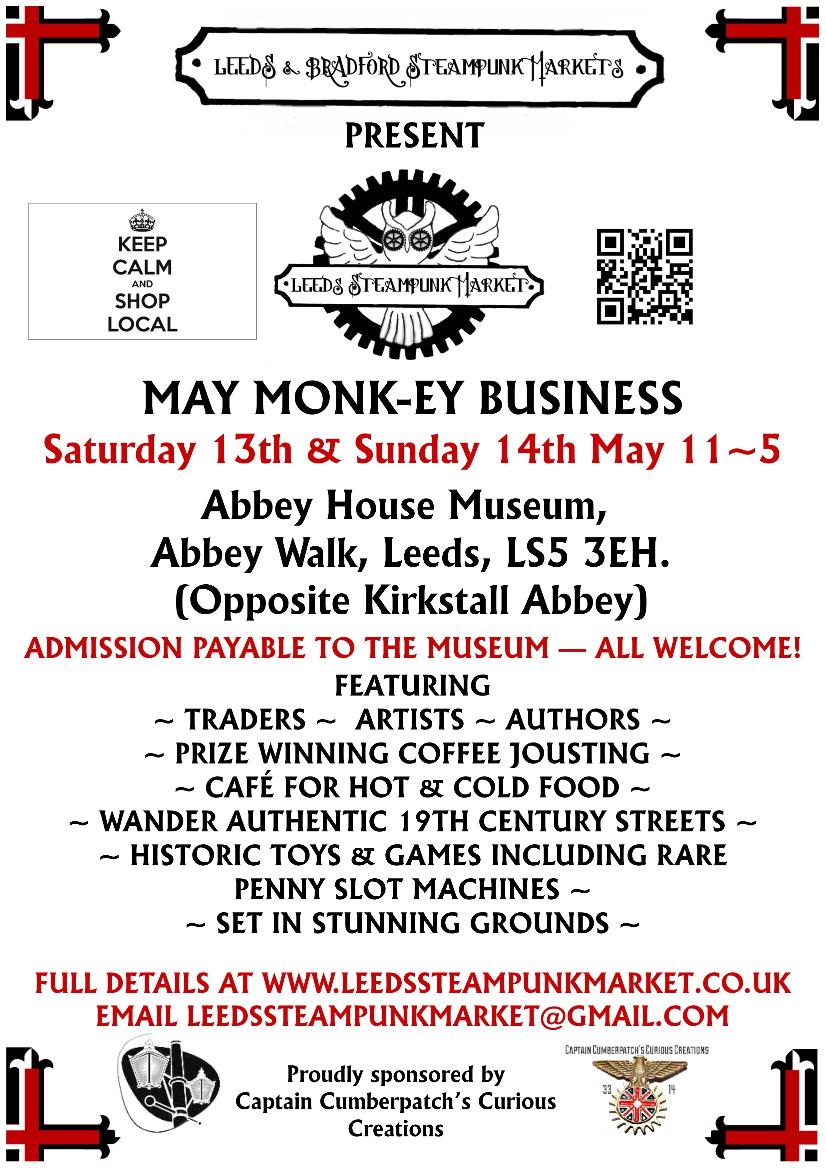 The Leeds Steampunk Market brings you a very special spring market held at
Abbey House Museum, Abbey Walk, Leeds, West Yorkshire LS5 3EH.
(Opposite Kirkstall Abbey).
This is 13th and 14th May 2017, trading times 11-5 on both days.
IMPORTANT UPDATE FOR SUNDAY - PLEASE CLICK HERE
The weekend will be as follows:
Doors open at 11am on both days, all stalls open and trading up to 5pm.
Recruiting for the Coffee Jousting commences an hour before the tournament takes place at 3pm and it's in a perfect spot!
(Rules on coffee jousting are on a separate post/tab on this website).
Captain Cumberpatch's Curious Creations will be donating medals for the prizewinners
(both 1st and 2nd) and one also for the Coffee Jousting Beanmaster (the host).
Customers will be paying normal admission to the Museum itself to be able to
access the traders as you will be mixed in with the whole building, the displays and the
layout. Their website can be found here
The museum opened in July 1927. The ground floor of the museum is set out as an area of
Victorian streets, illustrating a range of shops and services and including original shop
fittings etc. Upstairs galleries feature the history of Kirkstall Abbey, Childhood, and Leeds
Social History, as well as temporary exhibitions.
Latest exhibition on 1st floor is Fairy Tales & Fantasy.
Immerse yourself in a Pantomime world of magic and mystery at Abbey House Museum's latest exhibition!
Once upon a time in a faraway land everyday objects had magical properties and danger lurked behind every forest tree. A dirty lamp might conceal a genie, a spindle could send a royal household to sleep for 100 years and a pumpkin could be transformed into a golden coach.
This exhibition showcases some familiar fairy tales, including Aladdin, Little Red Riding Hood, Sleeping Beauty and Cinderella, as well as the classic children's fantasy worlds of Alice in Wonderland, The Water Babies and Peter Pan. Visitors can also explore tales from around the world, including traditional fables and the stories woven around mythical creatures such as dragons and phoenixes.
Drawing on the museum's fabulous collection of children's book illustrations, toys and games the exhibition looks at many different interpretations of familiar tales. It also investigates how the stories offer an escape from the real struggles of life as a chimney sweep, shoemaker or kitchen maid. Advertisers have long understood the power of fairy tale imagery to sell everyday products from gas mantles to washing-up liquid.